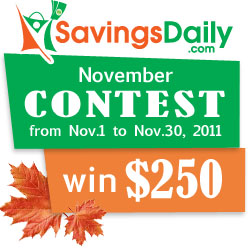 Top three members based on leaderboard will be awarded prizes
(PRWEB) November 01, 2011
SavingsDaily.com, a website where members can both get information about the greatest deals on the Internet and earn extra points and cash back through participating on the site, has announced November community contest, in which the three most active members will win bonus cash.
Members earn points on the site in several ways, including reviewing products, asking and answering questions in the Q&A section, posting tips for saving money on the blog and more. Points earned for each action are variable. For example, a blog post is worth four points and can be done up to 12 times daily. Asking and answering questions, and adding deals and coupons are all worth two points and are limited to 10 per day, of each action. The activity that will really separate the leaders is the "refer a friend" action. Each referral is worth 10 points and is unlimited! View all details about community points here.
By the end of the month the top three members, determined based on the points-earned leaderboard, will win additional prizes. The points leader will win $150 cash and the two runner-ups will win $50 cash. The money will be paid through PayPal. To be eligible for prizes, members must be older than 18 years of age. Employees, family members and other agents of SavingsDaily.com are not eligible for the contest. The winners will be published each week on the site.
In addition to getting great deals, interacting with fellow bargain hunters and having a chance to win a prize, members of SavingsDaily.com also have the opportunity to earn cash back. Almost every deal on the site includes a cash back opportunity, either in actual dollar amounts or as a percentage of the purchase price. Even better, when members refer new members to the site, purchases made by the new member will earn the referring member additional cash back!
SavingsDaily.com is truly a place where "everyone wins." Members benefit by getting great deals on items they want and need, earning extra money in the process, and the site earns commissions on products sold.
For more information about the contest or SavingsDaily.com, please visit Contest Page or call 1-877-782-4815.
###