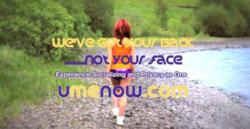 There is no doubt in my mind that Facebook presents a clear, direct and imminent threat to personal privacy and to our democracy," says the Latina leader of UmeNow.
New York, New York (PRWEB) November 02, 2011
A new video release by the super private social network UmeNow.com peeks into a near future where even the smallest detail of everyday life is tracked by Facebook. It's an uncomfortable depiction of life under surveillance. It sends a raw and simple message: tracking is stalking. When the stalker is also a powerful mega-giant corporation like Facebook, we enter the realm of big brother control.
According to Evelyn Castillo-Bach, the outspoken privacy advocate, entrepreneur and founder of the private social network UmeNow, "tracking people without their consent is no different than stalking. It's a direct and naked attack on individual privacy rights and doesn't belong in a free society. They know who your friends are, what you think, and where you are right now. People reject governments that abuse surveillance powers to control citizens. Online tracking by social networking giants represents a serious threat to individual privacy. It also violates core democratic principles."
A recent statement by Canada's Privacy Commissioner, Jennifer Stoddart, coincides with this view, underscoring that privacy is a core pillar of democratic rights and freedoms: "The true importance of privacy protection is that it underpins our democratic freedoms."
"There is no doubt in my mind that Facebook presents a clear, direct and imminent threat to personal privacy and to our democracy," says the Latina leader of UmeNow. "Facebook is under investigation in Europe for unlawfully keeping information people deleted from their accounts; tracking people after logging off, and even creating shadow profiles on people that have never used the site."
Castillo-Bach, who blogs on privacy issues within the 'In the News' section of UmeNow says, "Facebook is not your friend. It has morphed into a giant data collector. It acts like a fungus spreading uncontrollably, always wanting to consume more."
UmeNow prides itself in being an ethical company that provides a safe haven for people who want true privacy and secure communication. "UmeNow is a grassroots effort to protect the privacy rights of individuals," says the Columbia J-School graduate and UmeNow chief. "We have banned third party apps, games, and even ads precisely because they provide a back door to tracking people and extracting private information."
UmeNow is careful with its corporate friends too. "We owe our loyalty to our members and not special interests. We are independent and supported by member subscriptions. Unlike Facebook, we are not in a bear hug with Goldman Sachs."
According to The New York Times, Goldman Sachs was accused of "securities fraud in a civil suit filed by the Securities and Exchange Commission that claimed the bank misled investors who bought a mortgage-related security known as Abacus 2007-AC1 by not disclosing that the security was devised to fail."
"Does the alliance between Goldman Sachs and Facebook breed user confidence?" asks Castillo-Bach. "Do people really trust that the details of their private lives won't be used in a manner they never intended? You have a marriage between a company that stalks and one that is practiced in deception and global fraud."
Evelyn Castillo-Bach is currently in New York City to promote her bold campaigns "Occupy Privacy" and "Facebook is Trash, National Privacy Celebration."
UmeNow.com is based in South Florida in the city of Pembroke Pines. The website was first launched in July 2011. The founder and managing partner is Evelyn Castillo-Bach. She earned her M.S. in 1993 from the Columbia University Graduate School of Journalism, and has traveled extensively in Ethiopia and in the Balkans, accompanying her Danish husband who is a lawyer.
###