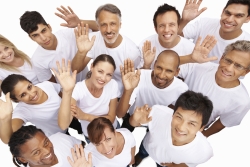 "We show up in January with tighter clothes and thinner hair - if we show up at all. Let's make this year different." - Lisa Anniston, Research Director
Fayetteville, NC (PRWEB) November 01, 2011
For the majority of retailers, this is the season where magic happens: red ink becomes black. Losses turn to profits. So why is one tiny company going so far as to "declare war" on the Holiday Season with a "5-Phase Battle Plan" for consumers?
"It's actually not so much on the Season itself," explains Lisa Anniston, Research Director for the site. "It's on what it does to us and to our health."
The average American gains at least one pound each and every Holiday Season, and research shows that pound is not lost over the following months. Instead, it's added to the next year and the next. For those who are already overweight, the news is even worse: their holiday weight gain could be 5 pounds or more.
Meanwhile, holiday stress and anxiety levels take their toll as well. It's no wonder, according to Anniston, "We show up in January with tighter clothes and thinner hair – if we show up at all." In fact, researchers have long documented a rise in deaths during the last two weeks of December.
To combat this aProvenProduct has come up with a 5-Phased "Battle Plan" that can be downloaded for free. "The Battle Plan is a two-page worksheet, something we're really excited about," explains Anniston. "If you put the strategies to work in your life this could easily be the most memorable, meaningful Holiday Season you've ever had. And it should also be your healthiest."
In addition to the Battle Plan, the website is offering a season's worth of inspiration, strategies and even recipes delivered via email. "We've found that even with the best of intentions a single download is too soon forgotten," says Anniston. "But 2 – 3 emails a week can go a long way toward helping people stay on track through the most dangerous time ofyear."
So does following the Holiday Battle Plan mean skipping the yummy-but-bad-for-you treats at every gathering? "Of course not!" says Anniston. "We're going to show you how to enjoy yourself without wrecking your health. By being just a little more purposeful and smarter you can have the experiences and the memories without the stress and weight gain. It can be done!"
aProvenProduct.com's War On The Holidays aims to make this the healthiest, most memorable Holiday Season yet.
For more information, and to download the Holiday Battle Plan visit http://www.HolidayWar.com .
###