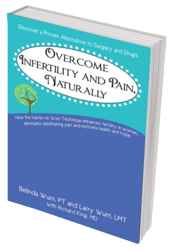 "Your work is a Godsend," says Dr. Northrup, who gives "a heartfelt thank you for providing women all over the world with such a safe, natural, and effective therapy to enhance fertility and pelvic health."
Gainesville,FL (PRWEB) November 01, 2011
Research gynecologist Richard King, MD joins Belinda and Larry Wurn as a co-author of the book, "Overcome Infertility and Pain, Naturally." Inside the book, the authors share a 20-year medical journey developing a physical therapy treatment to help patients achieve goals of natural full-term pregnancies and pain-free lives.
Starting with Belinda's debilitating adhesion pain after cancer surgery and massive doses of radiation therapy, "Overcome Infertility and Pain, Naturally," tells compelling stories from the authors' files, and relates the development of pioneering research in women's health. With a Foreword by New York Times best-selling author Christiane Northrup, MD, OB-GYN, and endorsed by doctors from Harvard, Columbia, and Northwestern Medical Schools, this book promises to usher in a women's health revolution.
"Your work is a Godsend," says Dr. Northrup, who gives "a heartfelt thank you for providing women all over the world with such a safe, natural, and effective therapy to enhance fertility and pelvic health."
With over 700 pages, this book is an elegant combination of more than 80 individual patient narratives, intertwined with 20 years of remarkable discovery, and the development of a 'hands-on' physical therapy which is backed by published scientific research.
More than 100 original illustrations provide a rich visual journey into the body. The book explains why adhesions cause problems for millions of patients and their doctors, and why a unique manual therapy, born from Belinda's adversity, has been successful for so many women who were diagnosed 'beyond help' by their physicians. As well as giving a good education about the workings of the female body, this book gives hope to women who thought there was nowhere else to turn to achieve their dreams.
This book is a condensation and re-title of the previously published "Miracle Mom, Better Sex, Less Pain," by the same authors.
###