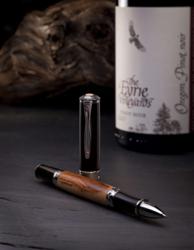 Every now and then, it is important to invest in objects that are personal, and timeless in their appeal and relevance.
(PRWEB) November 02, 2011
In 1975, The Eyrie Vineyards produced the first American pinot noir to compete successfully in France with the renowned pinot noirs of Burgundy. Thanks to the close partnership with The Eyrie Vineyards, the 35 year old wood from that original and historic grapevine will live forever in a beautiful limited edition writing instrument by William Henry.
The Eyrie Vineyards was the first winemaker to grow pinot noir in Oregon's Willamette Valley, where the temperatures, rainfall and day-lengths offer the grape its best home outside of Burgundy. In 1979, The Eyrie Vineyards placed in the top ten pinot noirs at the Olympiades des Vins in Paris. Surpassing hundreds of French winemakers, Eyrie's pinot noir was the first American wine to successfully compete with the French Burgundies.
Hoping to overturn the rank achieved in Paris, a challenge tasting was restaged in Beaune in 1980, and to the wine world's disbelief, Eyrie's 1975 South Block Reserve came in only 2/10ths of a point below the winner, the 1959 Chambolle-Musigny from Joseph Drouhin.
The Eyrie Vineyards is a pioneer in American winemaking - a small business whose tireless and creative work has inspired and guided the United States among the most respected and top ranking wine producers in the world.
William Henry is another American pioneer - creating timeless collections of functional jewelry that rank among the finest from anywhere in the world.
William Henry captured and memorialized the historic 1975 vintage from The Eyrie Vineyards in an equally superb writing instrument. The craftsmen and artists of the Oregon based company used the grapevine wood of this original vineyard for the barrel of a Special Edition of their RB-8 rollerball pen.
One of the very few writing instruments designed and made in the Unites States, the RB8-Eyrie pen features the original Eyrie vine wood, joined with Ebonite, Titanium, and accents of hand forged mokume gane and damascus; it sports the revolutionary spring loaded Wavelock® closure, and the clip is set with a red topaz evoking the subtle red of fine pinot noir.
"I like the idea that William Henry's creations strike a personal chord in many people" - says Matt Conable, founder and creative engine of the company. "Every now and then, it is important to invest inobjects that are personal, immediately useful, yet timeless in their appeal and relevance – these rare pieces can become part of a living legacy"
Lovers of wine, design and exclusivity can now own a fundamental piece of the winemaking history of America, and a true symbol of American pride.
The rarity of this grapevine wood and its complex usability yielded a limited edition of 100 pieces only which are available at William Henry's authorized dealers and online at William Henry's website.
###