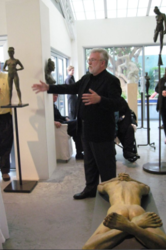 The quality of this wine is, in part, a tribute to the influence these extraordinary artists had on our lives.
Waiheke Island, New Zealand (PRWEB) November 01, 2011
On Saturday, October 29, Destiny Bay Vineyards continued its ongoing commitment to the arts by joining with the Robert Graham Studio, in Venice, California, to conduct a private wine tasting in memory of noted sculptor Robert Graham and artist/professor Frederick Spratt, Graham's mentor. The invitation-only event was attended by the many patrons of Robert Graham, as well as artists from Northern and Southern California, enthusiasts of Destiny Bay Wine and internationally known wine reviewer, Anthony Dias Blue.
The event was organized by studio director, Noriko Fujimani, and hosted by Steven Graham, architectectural designer and son of Robert Graham. Michael Spratt, founder of Destiny Bay Vineyards and son of Frederick Spratt, spoke to the assembled guests about the five decade relationship between the two artists and their families and finding his own artistic expression in wine making. Anthony Dias Blue spoke about the distinctive qualities of the Bordeaux-style Cabernet blends the guests would taste, as well as the matchless terroir in which the grapes are grown. The guests were then treated to tours of the studio and tastings of Destiny Bay Vineyards' critically acclaimed blended wines – Destinae, Mystae and Magna Praemia.
"Robert Graham and Frederick Spratt met at San Jose State University in 1961, as student and professor," stated Noriko Fujimami, the studio's director. "Both passed away within months of each other in 2008. But the sadness of this loss cannot diminish the joy we all share in the legacy of their works, their teachings, and the passions that inspired both of them and their children."
"I grew up with the smell of oil paint and gesso," remarked Michael Spratt, Destiny Bay's founder. "I was surrounded by art and artists all of my life, but did not find an outlet for my own artistic expression until I began making wine. It was then that my own artistic history coalesced. The quality of this wine is, in part, a tribute to the influence these extraordinary people had on my life and lives of my family."
"This has been a special event for me on many levels, honoring the memory and legacies of our fathers," said Steven Graham. "As the next generation, we continue to intersect, complement and enrich our creative endeavors."
About Destiny Bay Vineyards
Destiny Bay is a small, single vineyard, family-owned winery on Waiheke Island, New Zealand that specializes in estate grown and bottled blends of Cabernet Sauvignon, Merlot, Cabernet Franc, Malbec and Petit Verdot. Destiny Bay produces fewer than 2,200 cases per year of their three distinct blends, Magna Praemia, Mystae and Destinae. Destiny Bay is Waiheke Island's first fully certified Sustainable Winery & Vineyard (SWNZ) and is a founding member of The Specialist Winegrowers of New Zealand.
About Robert Graham
Robert Graham was born in Mexico City in 1938 and studied at San Jose State University (B.A., 1963) and San Francisco Art Institute (M.F.A., 1964). Graham's work is represented in the collections of the Museum of Modern Art, New York, the Whitney Museum of American Art, New York, Los Angeles County Museum of Art, San Francisco Museum of Modern Art, and over twenty other museums worldwide. Commissioned sculptural installations include The Great Bronze Doors of the Cathedral of Our Lady of the Angels, Los Angeles, the Charlie Parker Memorial in Kansas City, Missouri, and the Duke Ellington Monument in New York City, and the FDR Memorial in Washington DC.
About Frederick Spratt
Frederick Spratt Artist and educator, was the premiere impresario of the South Bay Arts Community. Born 1927 in Iowa, he was recognized as a significant artist by 1967, his work being shown that year at the San Francisco Museum of Modern Art. During the 1970's, he honed his vision among a group of Southern California painters and sculptors concerned with "high finish." Spratt held a seat on the art faculty of San Jose State University from 1956 to 1989, including nine years as Department Chair. Upon retirement, he was Acting Dean of Arts and Humanities. In 1993 he founded the "Frederick Spratt Gallery," exhibiting major artists, including Robert Graham. He is recognized for launching the careers of multiple artists.
Trademarks
Destiny Bay, the Comet, Magna Praemia, Mystae and Destinae are registered trademarks of Destiny Bay Vineyards Ltd. Other names may be trademarks of their respective owners.
###