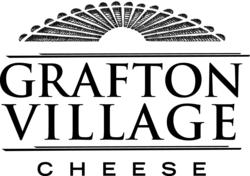 "The creaminess of the cheese and the malty undertones of the porter are incredible together; it's a match made in heaven!"
Grafton, VT (PRWEB) November 16, 2011
The creative minds behind Vermont's Grafton Village Cheese and Long Trail Brewing Company know that the flavors of the holidays taste best when paired together. No matter where you celebrate the holidays this year, these beer and cheese pairings will take your taste buds to Vermont's wintry wonderland. Grafton Village Cheese's Master Cheesemaker Dane Huebner coordinated with Long Trail Brewing's Head Chef Matt Pond to create a pairing guide that's sure to please for holiday entertaining and indulgences.
Grafton Village Cheese Tavern Select Two-Year Cheddar
o Pairs best with: Altbiers and Brown Ales
o Suggested Pairings: Long Trail Ale, Long Trail Harvest (seasonal)
o Dane says: "The slight fruit and bitter notes in both the cheddar and beer play with each other."
Grafton Village Cheese Tavern Select Three-Year Cheddar
o Pairs best with: Pale Ales, Reds, Wheats
o Suggested Pairing: Long Trail Pale Ale
o Matt Says: "The sharpness of the cheddar is accented nicely by the floral tones of a pale ale."
Grafton Village Cheese Tavern Select Four-Year Cheddar
o Pairs best with: IPA
o Suggested Pairing: Long Trail Traditional IPA
o Dane Says: "The stronger bitter notes in this beer bring out more mature cheddar aromas and flavors in our four year."
Grafton Village Cheese Duet
o Pairs best with: Porters and Stouts
o Suggested Pairing: Long Trail Imperial Porter
o Matt Says: "The creaminess of the cheese and the malty undertones of the porter are incredible together; it's a match made in heaven!"
To learn more or purchase Grafton Village Cheese please visit http://www.GraftonVillageCheese.com. Visit http://www.longtrail.com to learn more about the brewery and Visitor Center, open daily from 10 a.m.-7 p.m. for lunch, tours and beer to go.
About Grafton Village Cheese
Grafton Village Cheese, located in Grafton, Vermont hand makes artisanal raw milk cheeses and is best known for their award winning cheddars. The company was founded in 1892 as the Grafton Cooperative Cheese Company, which converted surplus milk from local dairy farmers into cheese. Years later, a fire destroyed the original factory. When the Windham Foundation restored the company in the mid 1960s, a new era for the town was born. Today, quality and taste continue to serve as the hallmark of Grafton cheddar. Grafton Village cheddars are sold under the Grafton Village, Tavern Select and Cave Aged brand names. Grafton's Cave Aged line selectively introduces new raw milk cheeses, including cheddars and other artisanal cheeses, created by Grafton's master cheesemaker Dane Huebner. As part of the nonprofit Windham Foundation, much of Grafton Cheese's annual earned income funds the Foundation's charitable programs. More information on Grafton Village Cheese Company can be found online at graftonvillagecheese.com.
About Long Trail Brewing
Long Trail was founded in 1989 with a mission to provide high quality, Vermont-made beer as an alternative to European imports. As the leading hand crafted beer in Vermont, Long Trail has demonstrated it fills a niche in the market for quality beer. Located in the heart of the Green Mountains, Long Trail takes the words "environmentally consciousness" seriously. Long Trail's brewery is truly unique as it was designed to minimize the impact on our environment and recognized in 2009 by receiving the Vermont Governor's Award for Environmental Excellence. Additionally, Vermont's Green Mountain Water Environment Association has named the water produced by the brewery's artisan wells as "Vermont's best drinking water!" The brewery sits on the banks of the Ottaquechee River in a town called Bridgewater Corners; located between Woodstock and Killington Vermont. Currently Long Trail sells into Vermont, New Hampshire, Maine, Massachusetts, Connecticut, Rhode Island, New York, New Jersey, Pennsylvania, Delaware, Maryland, the District of Columbia, and Virginia.
# # #