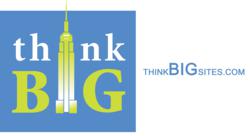 "We decided to give back and try to help these folks to get their websites highly ranked so they could also begin to compete with the biggest names in their industries", said Managing Partner, PJ Cammarata
Northport, NY (PRWEB) November 01, 2011
For 5 years running, ThinkBIGsites.com has been one of the nation's leading SEO authorities and Internet Marketing Co's. ThinkBIG is one of the few companies in this industry that have been able to consistently increase revenues since 2007 by offering quality internet marketing service s at an affordable price.
ThinkBIG wanted to give back by helping many clients from all over the country to get involved in the best SEO process available today, especially those who are suffering because of this economy.
This aggressive offer was coined, the "BIG 50/50" Special. ThinkBIG is now offering 50 new clients a 50% discount on all SEO packages offered for the life of their campaign. This will allow small and medium sized companies to get involved in an SEO strategy that is proven to drive targeted web traffic to client's websites quicker and more affordable than any other strategy available today.
"At ThinkBIG we talk to dozens of website owners each month who would love to get involved with one of our SEO campaigns but simply don't have the financial ability to do so. So rather than remove them from our database, we decided to give back and try to help these folks to get their websites highly ranked so they could also begin to compete with the biggest names in their industries", said Managing Partner, PJ Cammarata.
ThinkBIGsites.com is a full service, Internet Marketing Company specializing in helping customers drive targeted web traffic to their sites to become more competitive in their space and increase online sales as well as ROI (Return on Investment). ThinkBIG's expertise is spread across multiple disciplines including: world-class Search Engine Optimization (SEO), Pay Per Click Bid Management (PPC) & Social Media Marketing strategies which are all designed to give clients a significant advantage over their competition. For more information on ThinkBIGsites, visit us at http://www.thinkbigsites.com.
###