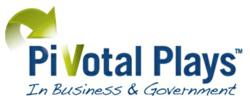 McLean, VA (PRWEB) November 01, 2011
MorganFranklin Corporation, a business and technology consulting firm that delivers financial management, performance improvement, and national security solutions to government and industry clients, announced that it will be hosting its second Pivotal Plays™ Executive Series that brings together special guests from sports, business, and government to share their personal views on the factors that define Pivotal Plays™.
WHO: MorganFranklin Corporation, Comcast SportsNet, and event sponsor, LexisNexis
WHAT: The Pivotal Plays Executive Series featuring the following speakers will address topics including leadership, team building, team dynamics, overcoming adversity, motivation, making difficult decisions, dealing with pressure, strategy and creativity.

Bruce Allen, Executive Vice President and General Manager, Washington Redskins
Shawn Henry, Executive Assistant Director, Criminal, Cyber, Response, and Services Branch (CCRSB), FBI
Special Guest: Chris Hansen, Correspondent, NBC News, "Dateline NBC"
Moderator: Ivan Carter, Host of Washington Post Live on Comcast SportsNet
WHEN: November 9, 2011 from 10:30 a.m. to 1:00 p.m.
WHERE: The Newseum, 555 Pennsylvania Ave. NW, Washington, D.C. 20001. Attendance is free but registration is required. Visit http://www.pivotalplays.com/events to register.
In the fall of 2010, MorganFranklin launched Pivotal Plays™ in Business & Government, a recognition initiative that showcases organizations and personnel that are making headlines by turning challenges into winning results. Like play-of-the-game highlights in sports, http://www.PivotalPlays.com features game-changing decisions and innovations in industry, government, and community-based organizations. The website and other channels offer real-time information on key players in the marketplace through business news stories, Twitter updates, and Pivotal Play of the Game highlights from Comcast SportsNet.
About MorganFranklin
MorganFranklin is an execution-oriented consulting firm that delivers financial management, performance improvement, and national security solutions to industry and government clients. We work hard to provide our clients with relief from the uncertainty and constraints that prevent them from achieving peak performance and mission success. With fast access to diverse expertise—from auditor to engineer—we look at challenges from every angle to satisfy immediate needs and develop long-lasting and sustainable solutions. Learn more at http://www.morganfranklin.com.
# # #