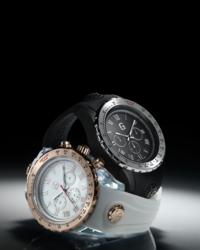 What you do with your time, how you spend it, will determine everything about you, every second we need to make the most of… don't waste your time, do something that really means something, , be someone that matters in this world
Los Angeles California (PRWEB) November 02, 2011
The Giantto Group rolls out its newest collection of 'Just G' watches and sports themed campaign titled 'Game Time' that truly represents an inspirational mantra and symbolizes the time to do something more, make a change, or to Step up your game. The Giantto group asked these two NFL players to give us some of what they have been through on and off the field, to help understand how they have dealt with time, as the seconds count down on the scoreboard each and every game. A new series of pictures will be released as the NFL season progresses with a different set of players, wearing a watch from the Giantto 'Just G' collection of oversized timepieces.
Also, a percentage of sales will be donated to Operation Home Front, Crags' charity of choice and for Ron Brace, The Giantto Group will be donating Watches To Pink Pageant Charity, a breast Cancer fund,. For Every tackle Ron Makes, a watch will be donated to raise funds for breast cancer awareness and support.
"What you do with your time, how you spend it, will determine everything about you, every second we need to make the most of… don't waste your time, do something that really means something, be someone that matters in this world." - Anthony Giantto, CEO of the Giantto Group
"I think this is an incredible opportunity to bring together great athletes and powerful companies for a wonderful cause. We want to inspire people to do better and be better! To make the most of our time because it is so precious." - Brittany Gilman, President BG Sports
The Giantto Group asked Craig Dahl and Ron Brace, the first to pose for the camera while flaunting these hefty watches, what each players most memorable moment in TIME was... Craig answered, "My most memorable moment in time would be celebrating a Super Bowl Championship (Super Bowl XLII Giants over Patriots) with my family on the field after the game. It was February 3, 2008 in Glendale Arizona-I had my mom, dad, and brother all with me."
Giantto also asked Ron what his definition of time was and this is what he said, "Time is something that cannot be wasted, you can never get it back."
For further information on Giantto, please visit http://www.giantto.com. Or call 1-877-GIANTTO.
Media Contact for the Giantto Group Taleen G. t:1-818-486-1211 taleen(at)giantto(dot)com
For further information on BG Sports, please visit http://www.BGSportsPR.com.
###