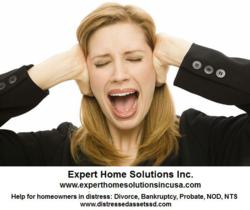 Homeowners can rebuild their financial life through a short sale whatever their distress: divorce, bankruptcy, probate, notice of default, notice of trustee sale.
San Diego, CA (PRWEB) November 01, 2011
EHS is offering free webinars for distressed homeowners who may be in need of loan modifications or short sales. The next webinar "Anatomy of a Short Sale" will be Nov. 15, 6pm PST. Home owners facing divorce, bankruptcy, probate, NODs or NOTS, will learn the short sale can be the answer to rebuilding and moving on to a happier life.
Even probate executors and administrators need to watch this webinar. More often these days a decedent's home is underwater. The key for the administrator or executor is not to take the inheritance until after the home has been sold. In most cases, this means no payments on the mortgage during the process, no damage to the credit of the heirs, no attorney or realtor costs to the estate. More advice can be obtained at http://www.distressedassetssd.com. Here homeowners can get the advice of attorneys.
Our company did see one executor who hired a realtor who was not familiar with the benefits of a short sale. The estate had no money beyond the real estate. This executor paid $5000 of her own money to an attorney to settle the estate and on his real estate agent's advice was paying $1000 per month from her own pocket for a mortgage for a property that was not in good repair and needed to be a short sale.
The topics we will cover on Nov. 15 at 6PM PST are:
1. Steps in a short sale
2. Start building equity again for retirement and the family's legacy
3. Choosing an agent and negotiating company
4. Stress Free Selling
Call 877-267-2514 x121 and leave name and email to receive an invitation. Homeowners can see last month's seminar Loan Modifications vs Short Sales at http://vimeo.com/30771099.
Once homeowners sign up, they will receive invitations to future webinars like "Anatomy of a Short Sale – Part II" that will cover Additional concerns:
1. Rebuilding credit
2. Renting or Renting to Own
3. Financial Planning
4. Buy again in 2 years or less
For more answers, homeowners can sign up for a FREE Guide for Distressed Homeowners.
Mary Ellen Wilson, broker (Lic. #01487433), Expert Home Solutions Inc. dba Expert Home Auctions International, 877-267-2514x7, 877-276-8563 FAX, mewilson(at)experthomesolutionsincusa(dot)com, has been licensed since 2005. Her internet experiences owning an Internet Business from 1995, that put radio on the internet in 1998, prompted her to start Expert Home Auctions International online in May, 2009. She has run over 40 auctions.
A complete media kit is available with videos, audio, photos, art, interview questions, and top ten.
###