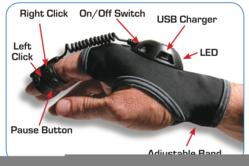 No more stressing over the table mouse. With the ergonomic design, users can sit back and relax. Easy on the wrist.
Orlando, FL (PRWEB) November 07, 2011
Bellco Ventures introduced the first wireless air mouse glove last month, October 2011, that allows users hands' to become the computer mouse. Bellco, started up by founder Pete Bell, was hoping to find the new Ion Wireless Air Mouse glove on the hands of many computer and internet TV users.
Now this is a reality, the new Ion Wireless Ergonomic Air Mouse is available online through many online retailers. By searching 'Ion Air Mouse' on Google, customers can find and use their favorite online retailer website to order their own wireless air mouse. With the holiday's approaching, Online retailers are currently offering great deals on the new air mouse glove.
After many years of working in the construction management business and ending up needing to go in a new direction, Bellco Ventures, a new startup company was born. Pete Bell, Founder, is very pleased with the online presence that the new product has gained. With his limited advertising budget, he is hoping that people will spread the word with the social media and internet channels.
With this new mouse, and its ergonomic design users can sit back and relax while controlling the cursor; no more stressing over the table mouse. Its design and usability is very easy on the wrist. Especially helpful for corporate presentations, educational lectures, gaming, and home entertainment systems the Ion Wireless Mouse provides a wide range of freedom for computer and internet TV owners. It has full control and mobile range from 35 feet away. Just plug in the USB module to any computer system, such as Windows, Mac, or Android, and your wireless mouse glove is mobile.
Bellco is very excited about the product launch and is gearing up with a full line of related new products coming to market soon.
###