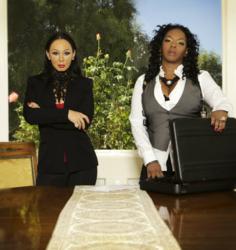 "Artists influence what's hot and what's not in fashion," Fuchs said. "I work closely with them, and they inspire my collections. So it's natural for the brand to extend into music. Music and fashion are two sides of the same coin."
Las Vegas, NV (PRWEB) November 01, 2011
Lifestyle clothing brand Billionaire Mafia announces the expansion of its business with the launch of Billionaire Mafia Entertainment, an independent music label and entertainment company.
Through this venture, Billionaire Mafia, which is known for producing wealthy attire for tastemakers in the music, art and fashion scenes, will parlay its connection to these industries to establish a full-service entertainment company that transforms an emerging star into a megastar.
The company's transition into management is natural as both co-founders have experience working with some of today's most influential icons. Fashion designer Lana Fuchs has dressed everyone from B.G., Jadakiss, Busta Rhymes and Ray J to Juelz Santana, Tech N9ne, Baby Bash and many more in Billionaire Mafia clothing. Music executive Tracey Smith has worked with independent labels and artists, as well as major record labels including Atlantic Records, E1 Records, Interscope Records, RCA Music Group and many more. With the addition of Billionaire Mafia Entertainment, the pair will represent a variety of talent including musicians, DJs and producers.
"Artists influence what's hot and what's not in fashion," Fuchs said. "I work closely with them, and they inspire my collections. So it's natural for the brand to extend into music. Music and fashion are two sides of the same coin."
BME is currently signing known hip-hop, R&B, country, pop, rock, and techno & house artists who are ready to take the next step in their careers. Events, reality shows and independent films are also in the works.
"Our clients must already be working and have a fan base," Smith said. "Due to the resources we have, we can take them to the next level: hitting the Hollywood scene, securing endorsements," Fuchs continued.
The company's two divisions will work hand-in-hand as its founders put the product with the music, while bringing integrity back to the industry. "Our label is about loyalty. Our artists are loyal to the brand, and we are loyal to our artists," Smith said. "We want to put the music out there, through radio, through mixed tapes, so it's not just sitting in computers."
About BILLIONAIRE M.A.F.I.A. – Music.Art.Fashion.Inspires.All.
Established in 2007, Billionaire Mafia has evolved from a small T-shirt company into a rapidly expanding lifestyle brand whose product assortment includes apparel, accessories and jewelry. The company unites like-minded individuals who are driven to change the norm and create an artistic movement that transcends geographic borders, genders and generations. Its mission is to inspire with all mediums of self-expression and break the mold of conforming to one standard. Through innovative design, original themed graphics and illustrations, Billionaire Mafia creates wealthy attire at affordable prices, bringing luxury to the streets. For more information and to view the collection, go to http://www.billionairemafia.com.
About Billionaire Mafia Entertainment
Billionaire Mafia Entertainment, a division of the Billionaire Mafia lifestyle brand, is an independent music label and entertainment company. The full-service agency specializes in developing the careers of up-and-coming hip-hop, R&B, country, pop, rock, and techno & house artists. By working hand-in-hand with the lifestyle division and maximizing its resources, BME will turn rising stars into super stars while bringing honesty and integrity back into the industry.
About Lana Fuchs
Russian born, Brooklyn raised Lana Fuchs began creating one-of-a-kind designs and custom-made garments for prominent individuals worldwide in 1995. This endeavor proved to be a great success as she became sought after by a rapidly increasing number of clients who wanted custom garments to fit their lifestyles. In 2004, Lana created her first ready-to-wear collection, which gained instant momentum. With public recognition of her talent and an eye for distinct individuality, her clientele continued to grow.
In 2008, Lana created Billionaire Mafia. Less than two years later, the brand has become a top contender in the apparel industry. It continues to be featured in a growing list of international publications, fashion shows and television programs, which praise the brand's style and designs. Throughout her career, Lana has maintained a strong work ethic and an absolute commitment to the successful growth of the company. An avid traveler and art enthusiast, Lana surrounds herself with street artists and musicians for inspiration. She is influenced by luxurious lifestyles and street fashion from around the world, resulting in Billionaire Mafia's eclectic, trend-setting and cutting-edge lifestyle.
Additionally, Lana Fuchs created Mafia Worldwide, a non-profit organization and sister company to Billionaire Mafia, helping underprivileged youth achieve greatness through music, art and fashion.
About Tracey Smith
Tracey Smith is a former Executive Assistant to past Def Jam Records President Kevin Liles and current member of The CORE DJs, who has earned a reputation for being a great visionary when it comes to spotting and promoting talent. She laid the foundation for her music career when she established the Club Queen Record Pool with her partner, the late Khia (DJ K-Swift) Edgerton in Baltimore. There she serviced more than 60 DJs with new releases each month. After working in the music industry for 15 years, Tracey founded her own consulting company called Star Status, which works with artists, promoters, athletes, models, actors, DJs and music executives. Smith also manages B.G., a former member of CASHMONEY records, and is a General Manager of Chopper City Music based in New Orleans.
About Star Status
Star Status Consulting and Management Company, now under the Billionaire Mafia umbrella, is a full-service agency that uses strategic alliances to service the specific needs of the Independent Entertainment community in the music, sports, film, literary and fashion industries by specializing in urban and alternative markets.
###