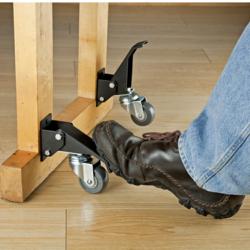 Medina, MN (PRWEB) November 01, 2011
Rockler Woodworking and Hardware has introduced a 4-Pc. Caster Kit that makes it easy to move heavy objects like shop equipment, appliances, and furniture. The kit includes four, easy-spin, 2-3/8" urethane casters with a foot-activated, lift mechanism that engages or disengages with the touch of a toe. Fully engaged, the four casters provide 3/4" of floor clearance, bringing total mobility to objects weighing up to 400-lbs. Disengaged, the wheeled item stays put, as the full weight of the item sits on the floor.
Each caster is rated to hold up to 100-lbs., with a total set weight capacity of 400-lbs., making it easy to move heavy, large items out of the way for cleaning, storage, or maintenance. The casters are ruggedly constructed out of durable steel and have a satin black finish.
The Rockler Caster Kit (43501) retails for $74.99. It is available at Rockler Woodworking and
Hardware stores nationwide, Rockler's independent resellers, Rockler.com, or in the Rockler catalog.
For store locations or a free catalog, please visit http://www.rockler.com or call 1-877-ROCKLER.
Note: Hi-resolution images and text to go along with this news release are available for download
at http://www.Rockler.com/News
About Rockler Woodworking and Hardware
Celebrating its 56th anniversary as a family-run business, Rockler Woodworking and Hardware is the nation's premier supplier of specialty hardware, tools, lumber and other high quality woodworking products. Rockler has 29 retail locations in AZ, CA, CO, GA, IL, IN, MA, MI, MN, MO, NH, NY, OH, OR, PA, TX, WA, and WI – plus 60 independent reseller locations nationwide, as well as extensive catalog and internet operations.
To learn more about Rockler, please visit http://www.Rockler.com or call 1-877-ROCKLER.
###