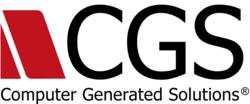 New York, NY (PRWEB) November 01, 2011
Computer Generated Solutions, Inc. (CGS) a global leader in IT solutions and services, announced today that it has been named a "Top 20 IT Training Company" for the third straight year by TrainingIndustry.com, the corporate training industry world's leading authority. This achievement, paired with CGS' inclusion in the Top 20 Training Outsourcing Companies List for four consecutive years, recognizes CGS' continuous leadership in the global training and learning space.
"We selected the Top 20 IT Training Companies after a rigorous process based on their leadership and innovation, the breadth and delivery methods, the customer base and the geographical reach of their IT training" explained Doug Harward, Chief Executive Officer of TrainingIndustry.com. "CGS, as well as all the great organizations that were included, have consistently demonstrated capabilities, expertise and sustained performance as industry leaders. Any corporate leader looking for an IT training partner can trust these organizations."
For over 20 years, CGS has delivered custom training solutions to corporations and government agencies around the world, quickly responding to ever-changing business challenges worldwide. From instructional design and content creation to project management and final delivery, the CGS innovative methodology has been leveraging its in-depth industry experience to consistently deliver best of breed programs.
"We are very pleased to be included again in the Top 20 IT Training Companies List," said Michael Marrache, Senior Vice President of Enterprise Training Solutions at CGS. "This coveted honor recognizes CGS' leadership in designing, developing and delivering innovative training solutions. CGS' unmatched expertise has allowed us to offer the right solutions to increase our customers' productivity and competitiveness."
The complete 2011 Top 20 Training IT Companies list can be viewed at http://www.trainingindustry.com/training-outsourcing/top-companies-listings/2011/2011-top-20-training-outsourcing-companies.aspx.
About CGS
For more than twenty-seven years, CGS has enabled global enterprises, regional companies and government agencies to drive breakthrough performance through technology. Headquartered in New York City, CGS employs over 3,500 professionals in 20 offices in North America, Europe and Asia. With global delivery capabilities, expertise across leading platforms and deep experience in multiple industries, CGS has become the IT partner of choice for thousands of organizations worldwide. CGS delivers a wide array of proprietary and third-party business applications, technology and business services, and business process outsourcing solutions, including customer care, technical support and corporate learning & training. For more information please visit http://www.cgsinc.com.
About TrainingIndustry.com
TrainingIndustry.com is the world's leading portal for searching and accessing information about the training industry. TrainingIndustry.com spotlights the latest news, articles, case studies, and best practices within the training industry to help dedicated business and training professionals get the information, insight, and tools needed to more effectively manage the business of learning. The TrainingIndustry.com Top 20 list is based on extensive research, interactions with companies around the world, and thorough analysis of the capabilities, experience, and expertise of hundreds of learning organizations. For more information please visit http://www.trainingindustry.com.
###