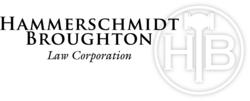 During the next two decades the number of innocent persons who will be released from prison in child death cases will rival the number released because DNA testing proved their innocence. -- Jeff Hammerschmidt
Fresno, CA (PRWEB) November 01, 2011
Jeffrey T. Hammerschmidt, a Fresno criminal defense attorney with the Hammerschmidt Broughton Law Corporation, has authored a chapter in the popular "Inside the Minds" series by Aspatore Books titled "Forensic Evidence and Child Abuse Cases." The chapter focuses on scientific issues in the defense of persons accused in child death cases, and covers matters that include the use of investigators and medical experts in such cases. A portion of the chapter will deal with so called "Shaken Baby Syndrome," which many leaders in the medical profession now believe is an improper diagnosis with no medical basis in fact.
In the chapter, Mr. Hammerschmidt highlights the fact that there are many cases around the country in which innocent persons are being released from prison after serving years for being wrongfully convicted of intentionally killing a child.
"Accidents do happen, but law enforcement and medical professionals are often quick to erroneously conclude that injuries suffered in such accidents are the result of intentionally violent conduct," says Jeff Hammerschmidt. "During the next two decades the number of innocent persons who will be released from prison in child death cases will rival the number released because DNA testing proved their innocence."
Mr. Hammerschmidt has been a licensed attorney for the past 23 years and has practiced in criminal law for 18 years, representing men and women in criminal matters in state and federal courts. He is certified as a Criminal Law Specialist by the California State Bar Board of Legal Specialization, and is recognized by the attorney rating firm Martindale-Hubbell as an AV rated attorney for ethics and legal ability, the highest rating available to any individual attorney. He has additionally received a rating of 10.0 out of a possible 10.0 from AVVO, a respected attorney rating firm.
Among his other distinctions, Mr. Hammerschmidt was selected in 2011 and 2010 to the Northern California Super Lawyers. He is also an Adjunct Professor of Criminal Law and Criminal Procedure at San Joaquin College of Law.
###