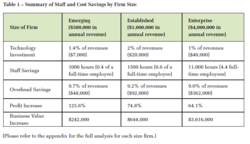 In total, firms that use ECM can increase profitability by 64.1% to 125.6%.
San Francisco, CA (PRWEB) November 01, 2011
Laserfiche (booth #335) today announced the availability of a white paper that explores the return on investment for RIA firms that leverage enterprise content management (ECM) software. Calculations are based on benchmark data from recent industry studies prepared by Nexus Strategy, Moss Adams, and the 2011 InvestmentNews RIA Technology Study.
"With Laserfiche's 25-year history and experience with over 30,000 installations worldwide, we were able to conservatively approximate the savings associated with using ECM to 'go paperless' and automate document-related processes," said Tim Welsh, CFP, Senior Consultant at Laserfiche. "In total, firms that use ECM can increase profitability by 64.1% to 125.6%."
In particular, firms that embrace ECM realize five major benefits:

Reduced paper storage costs.
Automation of back-office processes for increased efficiency.
Integration with CRM software for increased productivity.
Simplified compliance.
Increased business valuation.
"For a relatively small investment in ECM software, RIAs can make a powerful improvement in today's income as well as tomorrow's long-term business value," said Welsh.
The paper, "ROI for RIAs," is available for free at the Laserfiche booth (#335) and Website.
About Laserfiche
Since 1987, Laserfiche® has used its Run Smarter® philosophy to create simple and elegant enterprise content management (ECM) solutions. More than 30,000 organizations worldwide—including federal, state and local government agencies and Fortune 1000 companies—use Laserfiche software to streamline document, records and business process management.
The Laserfiche ECM system gives financial advisors the ability to simplify regulatory compliance, improve profitability and limit exposure to civil and criminal liability. It allows advisors to prepare for audits more easily and ensure compliance with multiple state, SEC and FINRA regulations—all while accelerating business processes and making staff more efficient.
Laserfiche®, Run Smarter® and Compulink® are registered trademarks of Compulink Management Center, Inc.
###