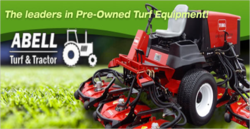 If customers want rock bottom pricing they can buy some of our equipment "as-is" and get some really excellent equipment at huge savings
Canton, GA (PRWEB) November 02, 2011
Turf equipment dealer, Abell Turf and Tractor, has improved its web presence through development of an improved website that gives customers complete access to their extensive inventory of used turf equipment. Abell buys and refurbishes used golf course equipment from industry leading manufacturers such as John Deere, Toro, Cushman, Jacobsen, Club Car, Yamaha, Agrimetal and Husqvarna. The website provides easy access to the company's inventory of equipment from these well known manufacturers. Customers can search by brand, equipment type and price which enables a customer to find and assess equipment in Abell's large inventory of quality rebuilt used lawn equipment.
The company purchases a wide variety of used turf equipment that they recondition to operate like new. Because of the large demand for used equipment the companies inventories turn over rapidly and can vary from day to day. The new website allows site visitors to search for the turf equipment they need such as leaf lawn vacuums, leaf sweepers, turf aerators, sand rakes, turf vacuums, zero turn lawnmowers, tractor sweepers, garden tractor mowers, rotary mowers and many other used pieces of lawn equipment. The company provides a warranty on all their rebuilt equipment for a full 60 days which allows customers to purchase Abell's used turf equipment and know that the equipment they buy will work properly. They supply warranty repairs worldwide which further reduces a customer's worries about purchasing rebuilt equipment. Turf equipment financing is also available for Abell's qualified turf equipment customers.
The company has over been in the turf maintenance business for over 30 years and knows turf equipment inside and out. Because they maintain golf courses they know what equipment works best for their customers. They are happy to help customers in purchasing decisions and can help them sort through the various brands and models of equipment, so they get what they need at the best possible price. If the company does not have a specific product that a customer wants Abell has the connections to find the used turf equipment they are looking for.
The President of Abell Turf and Tractor, Franklin Abell, commented on the company's new website and the move to increase their web presence on the internet. "Our new website will help attract potential customers who don't know about our refurbished golf course turf equipment. Once we get them to the website, we will get a chance to show them our large inventory and let them find just what they need. We have the most extensive selection of used turf equipment brands in the industry including John Deere, Jacobsen, Cushman, Toro and Husqvarna. If they have questions they can call or email us for the latest pricing, product or warranty information. If customers want rock bottom pricing they can buy some of our equipment "as-is" and get some really excellent equipment at huge savings. Our new Abell Turf and Tractor web presence is the keystone to developing new customer markets in the global used turf equipment industry".
Abell Turf and Tractor has been serving golf maintenance markets for over 30 years and is located at: 101 P. Rickman Industrial Drive, Canton, GA 30142, Phone (678) 296-0822.
###