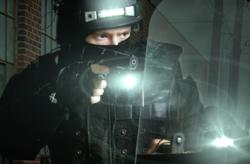 I'm excited to be able to showcase the Nomad, which I believe is a gamechanger for law enforcement and military special operations.
Vista, CA (PRWEB) November 01, 2011
FoxFury Lighting Solutions, designer and manufacturer of professional portable LED lighting, will be exhibiting at the 29th Annual SWAT Round-Up International next week in Orlando, Florida. FoxFury will be featuring its easy-on LED shield lights and portable LED perimeter and command post lights. This will be the first year that FoxFury exhibits at this event, which runs November 6-11.
FoxFury will have its powerful PRO and Discover shield lights on display. These LED shield lights mount via industrial Velcro and affix to any ballistic, riot or entry shield. These lights emit up to 560 lumen and feature a disorienting Turbo-Strobe for riot and crowd control scenarios.
FoxFury will also feature its Nomad portable rechargeable LED Area-Spot light. As a spotlight, the Nomad serves as a perimeter light that is too bright to see past, which gives SWAT and other special operations a tactical advantage. Attaching the diffuser lens quickly converts the Nomad into a wide angle area / flood light for use at an incident command post. The Nomad stores as a 33" tube, weighs 17 pounds and deploys fully in 20 seconds. The Nomad is available in white or infrared (IR) LEDs.
Special operations, corrections and other law enforcement and military teams can benefit from FoxFury's portable lighting tools. FoxFury also makes powerful compact LED flashlights with a unique Turbo-strobe along with wide angle white or IR LED headlamps.
"I've exhibited at over 20 SWAT Round-Ups in the past with other companies. I'm excited to be able to showcase the Nomad, which I believe is a gamechanger for law enforcement and military special operations" said Tim Ellwood, LE / Military Sales Manager for FoxFury.
About FoxFury:
FoxFury Lighting Solutions creates unique and cutting edge lighting products that reflect the needs of our customers, who demand quality and dependability. FoxFury is best known for its niche LED headlamps designed for specific markets including Fire, Industrial, Hazardous Area, Law Enforcement, Forensics and Recreational. FoxFury was formed in August 2003 and operates out of Vista, CA USA.
About SWAT Round-Up
SWAT Round-Up International 2011 combines education & training seminar head-to-head competition, and trade show into one major event. SWAT Round-Up International began as a means to provide a forum for the exchange of ideas among agencies. SRI has now evolved into an international showcase for special operations teams from across the United States and Europe.
About Tim Ellwood:
Tim has dabbled in lights, cameras and action….and guns too. Tim was a Regional Sales Manager for Smith & Wesson, Domestic Sales Manager for a large firearms distributor along with various other positions in his 27 years in the law enforcement / sporting goods industry. Tim joined FoxFury in 2010.
# # #