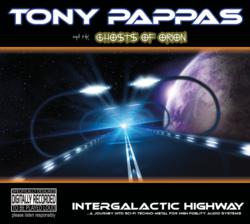 This music unfolds like a futuristic, space age, science fiction novel that's cerebral yet very emotional and it takes my soul on a spiritual roller coaster ride every time I hear it...
Albuquerque, NM (PRWEB) November 01, 2011
Fasten your seatbelts and make sure your tray tables and stereos are in the upright position. You are about to embark on an auditory journey that will leave your heart pounding and your mind soaring. The Intergalactic Highway is set to open 11/11/11. Destination: Sci-Fi Techno-Metal.
Construction began on the Intergalactic Highway only three short years ago, but the destination, the new musical genre: Sci-Fi Techno-Metal, has been quietly brewing inside creator, Tony Pappas' mind for decades. In the seventies, Tony's young, malleable mind was molded by greats such as Herbert, Burroughs, and Roddenberry; the movie Star Wars; and Ridley Scott's Alien.
The early eighties stamped Tony's psyche by exposing him to the dreamy soundscapes and raw clarity of sound that was prevalent in bands such as Devo, Peter Gabriel, Wall of Voodoo, and Thomas Dolby. Later, the Heavy Metal icons, Metallica, Megadeth and Queensryche would further influence Tony and the seed of the new musical genre, Sci-Fi Techno-Metal, began to subconsciously grow within him.
In 2009, the Ghosts of Orion project planted that seed and provided the platform from where the Intergalactic Highway will be launched. Guaranteed to take listeners to places "where no one has gone before", the Intergalactic Highway will fling you through hyper-speed leaving you breathless and ready to listen over and over again. This album is truly the "Mother Ship" that will give birth to a long lineage of music in Sci-Fi Techno-Metal.
To hear clips of the new style and to learn more about the project visit the official website at http://www.GhostsOfOrion.com/
# # #