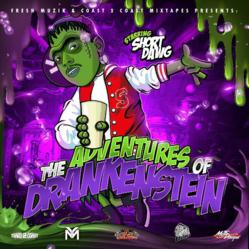 Miami, FL (PRWEB) November 01, 2011
YMCMB artist Short Dawg released his mixtape "The Adventures of Drankenstein" on October 31. Presented in association with Coast 2 Coast Mixtapes and Fresh Muzik, the project is available at http://www.coast2coastmixtapes.com for free download. "The Adventures of Drankenstein" is full of exclusive tracks from Short Dawg, and also includes artist features from Birdman, Timbaland, Mack Maine, Gudda Gudda, Lil Keke, Z-Ro, Propain, C. Ward, and Attitude. Production is added by Timbaland, Honorable Cnote, Mr. Lee, Crack Koke, Da Engineers, M-16, Shape Shifta, Tha Bizness, and Jon Jon Traxx.
Short Dawg and Coast 2 Coast will host the official release party for "The Adventures of Drankenstein" Friday, November 4 at SoBe Live (1203 Washington Avenue, Miami Beach, FL 33139), where free physical copies of the mixtape will be available for all attendees.
The rap artist best known as Short Dawg was born and raised in the Sunnyside area of Houston, TX. Short was influenced early by the ways of street life and initially did not have a strong interest in a rap career. However, once his older brother Blumega heard his witty freestyling ability, he urged Short to consider taking it more seriously. Short Dawg eventually dropped out of school at Texas A&M University and relocated to Atlanta, GA to focus more on his music. He was discovered by hip hop mogul Russell Simmons and signed to Russell Simmons Music Group (RSMG). An attempt at a joint venture between RSMG and Def Jam Records didn't work out, which resulted in Short Dawg signing with RSMG and Jermaine Dupri's SoSoDef record label.
With a few tours and several mixtapes under his belt, Short's popularity began to rise. Becoming a familiar face alongside artists like Bow Wow and other household names, it seemed Short would soon take the industry by storm. However, plagued by obstacles and other more personal issues, Short's music career seemed to be stuck at a standstill. In spite of these speed bumps, Short remained determined to solidify his spot in hip hop. And with the help of superstar rap artist Lil Wayne, that's exactly what Short was able to do. Lil Wayne featured Short Dawg on the Syrup Sippin' anthem, "Me and My Drank", and after fans heard his verse, they knew Short Dawg was a force to be reckoned with. Seeing that things weren't going as planned over at RSMG/SoSoDef, Short Dawg began to seek other avenues to get the recognition that he deserved.
After approximately two years of friendship, Lil Wayne waited for the right time and presented Short with an opportunity to sign to his own label, Young Money Entertainment. Short Dawg accepted the offer and since then has fit in very well over at the Young Money camp. And with the remarkable success of his mixtapes, Short Dawg's fan base has continued to rapidly grow. Short has also adopted the name Elvis Freshley as his alter ego, informing his fans that he is not one-dimensional and will definitely expand into other alternative genres of music. For more information, check out http://www.short-dawg.com
"The Adventures of Drankenstein" is available for free streaming and download at http://coast2coastmixtapes.com/mixtapes/mixtapedetail.aspx/short-dawg-the-adventures-of-drankenstein
###