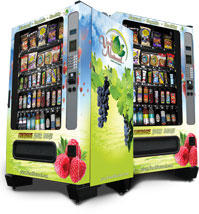 With Nashville's high rates of teenage obesity, I knew we could make a real difference in how people snack that would last a lifetime.
Toni Pack
Vend Natural of Tennessee
Nashville, TN (PRWEB) November 01, 2011
Vend Natural, America's leading healthy vending company offering all natural organic, snacks and beverages, today announced the expansion of its operations in the Nashville, TN area, reflecting a growing national trend towards healthier living.
Adding to its growing footprint nationwide, Vend Natural of Tennessee - led by Franklin resident and company President Toni Pack - will provide access to a full range of healthy convenience eating options to schools, universities, hospitals and other businesses in the Davidson and Williamson County communities and beyond.
Vend Natural – http://www.vendnatural.com - founded by company CEO Gil Sanchez, was formed to address the declining health of our nation by providing healthier snacking alternatives to on-the-go individuals at schools, hospitals and businesses. The company's mission is to support improved eating practices by offering healthy products that are easily accessible and affordable to everyone.
"The Nashville metropolitan area - long known as the center of the music industry and home to many colleges and universities - is the perfect place to welcome healthy snacking alternatives in convenience eating," said Toni Pack, healthy vending entrepreneur. "We are all anxious to address the epidemic of childhood obesity and diabetes. Vend Natural's healthy snack machines, with their wide assortment of all natural, organic beverages and snacks, offer the right alternative to traditional high-fat, low nutritional value snacks in hospitals, schools and other public venues." Pack continued, "We expect strong demand for our healthy snack machines in both Davidson and Williamson counties as others hear about the Vend Natural solution. We know that even small changes can make big differences and we want to part of that kind of change for our community."
Vend Natural CEO Gil Sanchez says, "We are pleased to see leaders in the Nashville area join our business across the country." "Toni Pack is a strong operator with a real commitment to expanding Vend Natural's presence in her home state. As a long-time resident of the Franklin area with a proven track record in business, Toni Pack and her operating team are strongly invested in ensuring that their community never has to trade health for convenience, "said Sanchez.
Vend Natural is the only healthy snacking company in the country that not only partners with business owners coast to coast, but also owns and operates its own machines on the west and east coasts. This enables the company to test new equipment and products before full roll-out and provide the most relevant training and customer service operation for its distributors. "We don't just 'sell' the business, we are IN the business, which makes us significantly more knowledgeable about what works and what doesn't," said Mr. Carpenter. Part of Vend Natural's mission is to ensure a fresh product mix and their strong relationship with Del Monte Fresh Produce ensure that fresh cut apples, pineapples, carrots, celery, whole bananas and more, are available to their customers.
Vending Machines Go Green: Good for the Body and the Planet
Vend Natural's vending machines are not the old school machines you are used to. Today's state of the art vending machines are not just good for the body, but have gone "green." They feature:

Energy efficient design, costing a third of what traditional machines cost to run.
-More than 40% recycled metals.
-Remote, internet-based monitoring systems, preventing unnecessary fuel costs and emissions to replenish products.
-5 Star energy rating.
America has a BIG Problem: The Facts on Obesity
Rates of obesity among children and adults have risen by alarming rates over the last several decades. Here are some facts:
1. 1/3 of children in America are either overweight or obese
2. 19.6% of kids ages 6 to 11 are unhealthy (compared to 6.5% in 1980)
3. Obesity in children can lead to diabetes, stroke, cancer, and more
4. Today's children are the first generation to have shorter life spans than their parents
due to poor health
5. Adult obesity rates have continued to rise with 38 states now with obesity rates of
more than 25%
6. Over 36% of Tennessee children are obese while the state ranks fourth nationally in
overall obesity rates.
About Vend Natural
Vend Natural is America's fastest-growing healthy snacking company and is based in Ventura, California and Annapolis, Maryland. The company was inspired by the vision of helping to transform eating patterns by providing healthy snacking alternatives in convenient vending locations across America. Specializing in placements in schools, hospitals and businesses, Vend Natural currently operates more than 550 machines in 22 states and the District of Columbia with plans for significant growth over the next several years.
The company is known for its innovative and environmentally-sensitive vending machine design offering state-of-the art, dual temperature-zoned, energy efficient machines that hold a large variety of both natural organic snacks and beverages. Vend Natural is also known for its fresh, bright, signature machine graphics featuring large, appealing illustrations of grapes, raspberries and its tag line, "Snack Better. Live Better." Vend Natural was awarded Entrepreneur of the Year award in Maryland for 2010. For more information, visit http://www.vendnatural.com.
###