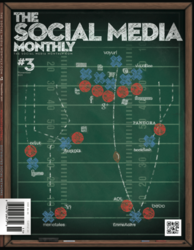 I have to admit, it's pretty exciting to have the magazine available nationwide at Walmart in Canada. With the addition of Spain, Portugal and Singapore, the magazine is now available in twelve countries outside of the United States
Washington, DC (PRWEB) November 01, 2011
Washington, DC-based technology group, The Cool Blue Company LLC announces availability of the third issue of The Social Media Monthly magazine nationally at Barnes & Noble booksellers, Chapters/Indigo bookstore chain in Canada, Walmart Canada, Australia, New Zealand, the United Kingdom, Germany, Sweden, Norway, Finland, Denmark, Spain, Portugal and Singapore. The Social Media Monthly is also available as a standalone flash digital e-zine and as a downloadable app in the iTunes store.
The November issue features a cover design by graphic design artist Walt Wise. Mr. Wise is the owner of Arrae Creative, a full service creative agency based in Denver, Colorado. The cover displays a football field portraying startup social media companies taking on more established companies such as Google, Facebook and Twitter. It ties in two articles from the issue: a feature piece about the collision of social media and fantasy football by Rose de Fremery (@rosedefremery), and a review of the brightest startups launching out of the Fall 2011 DEMO conference by Robert Fine (@bobfine).
Feature articles include a case for distributed social networks by David Stuart (@webyst); a comparison of two city police department's engagement of social media by Marissa McNaughton (@marissamcn); a case study of Flint, Michigan's Cars 108 radio station use of social media by Erin Coyle; a review of the latest social media apps for staying fit by Nicole D'Alonzo (@nikinotes); and Eric Andersen (@eric_andersen) comes clean in "Confessions of a Foursquare Addict".
"I have to admit, it's pretty exciting to have the magazine available nationwide at Walmart in Canada. With the addition of Spain, Portugal and Singapore, the magazine is now available in twelve countries outside of the United States" said Robert Fine, founder of Cool Blue Company. http://TheSocialMediaMonthly.com "We've just finished up our December issue which will be on sale November 29th, and features a fantastic holiday scene on the cover. The issue has a large focus on social media's impact on our holiday shopping experience."
About The Cool Blue Company LLC
Robert Fine is the founder of Cool Blue Company, LLC, and author of "The Big Book of Social Media Case Studies, Stories, Perspectives". Robert has over 17 years experience as a systems and sales engineer with various companies including CMGI, Hughes Network Systems, and most recently as Senior Director of IT for Global Strategy & Development at Conservation International (CI). He is currently pursuing his PhD at George Mason University where he is researching links between investments in information technology and achieving conservation outcomes.
###