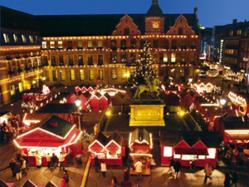 Seven separate Christmas themes and attractions instead of one large market
Düsseldorf, Germany (PRWEB) November 01, 2011
From November 17 through December 23, Düsseldorf's Old Town becomes the site of one of the most successful new concepts in traditional Christmas markets. Visitors find seven separate Christmas themes and attractions instead of one large market while strolling through the beautiful historic city center during the holiday shopping season. Moreover, visitors may come across professional skiers during the 10th FIS Cross-country Skiing Worldcup that takes place right in the city. And the city's excellent high-end shopping, primarily on shopping boulevards Königsallee and Shadowstrasse, adds even more options to the dazzling variety for visitors.
The new formula for the city's historic Christmas Market has been attracting thousands more to Düsseldorf each holiday season since it was introduced several years ago, including many international visitors from the US and Russia, as well as nearby Belgium, Netherlands, France, and England.
The innovative experience takes visitors through seven separate Christmas villages, each featuring a different theme, design, vendors, and attractions. Themes include: An "Angel's Market," with angels and thousands of lights turning the area into a sea of light; a village of artisans working on wrought-iron, glassblowing, and candlemaking; and booths that are replicas of Düsseldorf's historic town houses. In addition, there will be an extensive program of family entertainment in a heated tent, an ice rink for free skating, and many culinary treats for adults and children. Düsseldorf's luxury shopping avenue "Königsallee," which dazzles shoppers all year long, will be ablaze with holiday cheer, thanks to thousands of lights and decorations in the giant chestnut trees that line this elegant street.
While Düsseldorf has long been a major shopping destination (elegant Königsallee is one of Europe's premiere high-end shopping boulevards), visitors during the holiday season can add overnight stays for extended shopping and sightseeing, with many taking advantage of special hotel packages available through the city's tourism website.
Hotel specials start at € 59 per person per double room and € 88 for a single room, including breakfast.
The market is open November 17 – December 23, 2011, from 11:00 am – 8:00 pm, Sunday – Thursday; 11:00 am – 9:00 pm Fridays and Saturdays. The market is closed on Sunday, November 20.
For more information on Düsseldorf's Christmas Market, visit http://www.duesseldorf-weihnachtsmarkt.de.
For more information on special holiday hotel packages, visit http://www.visitduesseldorf.de.
Düsseldorf, only a short distance from many major destinations, makes possible easy travel to the Rhine-Ruhr area, Cologne, Belgium, and the Netherlands, as well as many opportunities for short and long-term stays.
Düsseldorf International Airport (DUS), Germany's third largest, offers several non-stop flights from US & Canadian cities (Atlanta, Chicago, Ft. Myers, Los Angeles, Miami, New York, Newark, San Francisco, Toronto, Vancouver), as well as convenient connections to many European cities and beyond. For more information on DUS, visit http://www.fly2dus.com.
Düsseldorf Tourism & Marketing GmbH is the visitors and convention bureau of the city of Düsseldorf. Its services include tourism and city marketing, conference and meeting marketing, hotel reservation services, fairs and convention services, city event ticket sales and advance ticket reservations. For more information, visit http://www.visitduesseldorf.de.
###