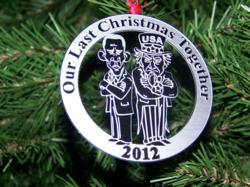 Adding a Little Humor to an Otherwise Grim Situation!
St. Louis, MO (PRWEB) November 01, 2011
Uncle Sam and Barack Obama may be parting ways in 2012. No matter which side of the political fence one is on, the polls speak for themselves. Now is the perfect time to get in on the action! Breakup Ornaments is proud to introduce an ornament unlike any other which commemorates this historical event.
Hang the Breakup Ornament from the rear view mirror (they're not just for Christmas anymore!) or let your displeasure with the current administration be known with an historical t-shirt, auto decal or button.
The company also offers the original hilarious "Our Last Christmas Together" ornament; perfect for the "EX" who has everything!
To order, visit http://www.breakupornaments.com.
About Breakup Ornaments:
In 2009, two St. Louis entrepreneurs, both experienced in the break up process, decided to share their lighthearted outlook. The idea first bloomed back in 1991 when the spouse of one partner decided to call it quits. While decorating the Christmas tree that year, he came across the infamous "Our First Christmas Together 1985" ornament. As he launched the ornament towards the trash can, an idea was born. The rest, as they say, is history.
Contact Nicole Castellano for more information or to schedule a rousing interview with the minds behind the idea!
###