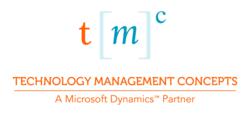 It is a testament to our hard work and continued efforts to be a leader in the Microsoft Dynamics community that we were selected to present at this event
Los Angeles, CA (PRWEB) November 02, 2011
Technology Management Concepts is honored to have been selected to present on behalf of Microsoft and the Dynamics community at the Microsoft Store at the Century City Mall on November 9th. TMC will be presenting Microsoft Dynamics GP led by Solutions Consultant John Hoyt, and attendees will be able to get an inside look into how Microsoft Dynamics GP looks and feels. Technology Management Concepts is known as the premier Microsoft Gold Certified provider of Microsoft Dynamics GP in Southern California and are excited to share their knowledge about the product with the community.
"It is a testament to our hard work and continued efforts to be a leader in the Microsoft Dynamics community that we were selected to present at this event" says TMC President Jennifer Harris. "We are always looking for ways to further expose our company, products, and of course give back to the community". TMC holds free webinars and seminars all year-long to allow current customers and potential clients the ability to further their learning about the Microsoft Dynamics GP and Dynamics NAV product lines. They also consistently participate in different charity events and volunteer for needy organizations in the Los Angeles community. You can access their list of events here.
The presentation will take place at the Microsoft Store at the Westfield Century City mall in their group meeting area which includes a state of the art theater and giant touch screen and seating for up to 50. The Century City location is one of 14 current Microsoft Stores nationwide with Microsoft planning to open 75 more retail stores in the next two to three years. The store is decked out with all-things Microsoft and wall-to-wall digital displays. You can test-drive, play with and explore all of the Windows 7 PCs, Windows Phone, Xbox and Kinect or get help from one of the in-store experts.
"These presentations at the Microsoft Stores around the country are a great way for people to not only learn about different products and see how they work in-person, but also for them to see the new Microsoft Stores which are state-of-the-art" says Marketing Manager Brett Hensley. The presentation will include a catered breakfast and swag bag that will have discounts to the store, giveways, Microsoft products and information about the store and the presenters.
Technology Management Concepts will be joined by Webfortis who will also be presenting on the functionality of Microsoft Dynamics CRM. The Microsoft Dynamics community is very tight-knit and always looking for ways to help each other out. "TMC is thrilled to be joined by a fellow Microsoft Gold Certified Partner, and looking forward to working with Webfortis to give a great and informative presentation" says Account Manager Patricia Quimby. By having two leaders in the ERP community join together, TMC and Webfortis will be able to show not only how Microsoft Dynamics GP and Dynamics CRM can help organizations grow their businesses but how they seamlessly work together just like the all the Microsoft products. No matter what Microsoft product a customer is using, from Dynamics GP to Outlook to Excel, the look and feel is the same, making learning and using the product very simple and familiar.
The presentation is only open to a limited amount of customers because of the capacity size of the store. So if you are interested in attending the presentation, email Brett Hensley at bhensley@tmc-la.com or call TMC at 310-559-3982 for more information.
About TMC
TMC is a leading Microsoft Gold Partner in Southern California, specializing in Microsoft Dynamics for companies of all sizes. TMC's customers range from small/mid size businesses to multinational and worldwide organizations. They have in house expertise in various industry sectors, making each implementation unique and focused around the customer's business needs and objectives. With over 20 team members in various locations, consisting of application and technical consultants, developers and project managers, TMC is dedicated in helping you achieve your goals and serving clients in Southern California (including Greater Los Angeles, Orange and Ventura County areas) as well as nationwide.
TMC helps their customers strategically leverage their IT investment in Microsoft Dynamics GP (Great Plains), Microsoft Dynamics CRM and Microsoft Dynamics NAV to become more productive, efficient and competitive. Their goal is to help companies derive long term business value from their software investments. TMC shares Microsoft's commitment to long lasting relationships. For over 25 years, they have been providing personalized services, from the beginning stages of business process review, to implementation, training and ongoing support.
###