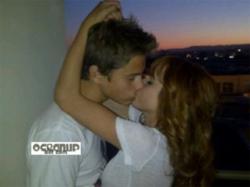 Irvine, CA (PRWEB) November 02, 2011
Actor Garrett Backstrom, an actor who has appeared in the television series Brothers and Sisters and will be in the upcoming Motel Life with Dakota Fanning celebrated his 16th birthday on October 22nd at Racer's Edge Indoor Karting in Burbank, CA. Leaf Brands, LLC products, Farts Candy™, were on hand to provide refreshments.
Backstrom was born and raised in Colorado Springs, CO and was an 11-year gymnast and two-time state champion before arriving in CA two years ago to pursue acting. He has landed roles in two feature films and two television shows, as well as numerous commercials. Backstrom discovered his love for Farts Candy™ and Astro Pops® soda while attending a Leaf Brands™ gifting suite for the Emmy's last month.
Farts Candy™ are flavorful chewy candy nuggets in all kinds of fruity flavors that are so fun they'll make you laugh!™ The little bumpy, candy shell pieces with a nice, chewy texture, are a perfect candy to toss into your mouth any time you like, and have been compared to The Nestle Company's Nerds® candies, but are reputed to be more chewy and flavorful.
Available in 1.25 ounce individual packs as well as in bulk, Farts Candy will be available in select retail stores in December and come in 12 flavors including a Fruiti Farts assortment, Sour Farts assortment, and 10 individual flavors: Pina Colada, Sour Watermelon, Sour Apple, Root Beer, Grape, Strawberry, Blue Raspberry, Black Cherry, Tangerine, and Lemonade.
Also in attendance at Backstrom's celebration was his 13 year old girlfriend, Bella Thorne, who currently stars in the hit Disney show, Shake It Up. The couple caused a stir last July when a leaked steamy photo showed Bella and Garrett getting intimate with a hot and heavy kiss. Bella's sister and brother and fellow actors Dani Thorne and Remy Thorne, as well as actors Dylan Sprayberry, Austin North, Sterling Beaumont, Olivia Holt, Jadin Gould, and Rachel G. Fox, were among others who were part of the festivities and indulged in Farts Candy™.
According to Leaf Brands CEO Ellia Kassoff, "Farts really resonates with kids of all ages because you can't help but giggle and smile when you hear it. Kids love the name!" "The most important thing we started with was an amazing candy product that David Klein and his company developed; next we came-up with the great name." Moreover, Kassoff added, "The candy colors are so vibrant; they invite you to taste all the different flavors."
These juicy flavors will be packaged in 4 different varieties – Fruiti and Sour plus various single flavors and Small Farts™ and Natural Farts™.
Fruiti Farts Candy™: Mixed juicy little pieces of chewy goodness that will give you all the fruit flavors you crave.
Sour Farts Candy™: Intense, sour pieces that will make you pucker!
Small Farts Candy™:– Itty, bitty smaller candy pieces that look like sprinkles. Use them for cupcake toppings for that added oomph taste!
Natural Farts™ - Coming soon and will have both natural flavor and natural colors.
About Leaf Brands, LLC: The original LEAF Brands were started in the 1920's. LEAF Brands, once the fourth largest candy producer in North America, brought candy classics such as Whoppers® and Jolly Rancher® to the marketplace. Members of the Leaf family have assembled together once again to revive the Leaf name and its famous image after the US division was sold to The Hershey Corporation in 1996 and left the United States. Products include Astro Pops®, Yummers!™, Farts™ and David's Signature Beyond Gourmet™ products.
# # #