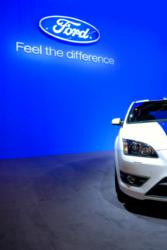 At Toothman Ford we possess an outstanding team of well-informed, friendly, and passionate experts in each field of the auto industry.
Grafton, WV (PRWEB) November 01, 2011
The line of all-new 2012 Ford vehicle models has now arrived at Toothman Ford of Grafton. Toothman Ford is located in Grafton, WV, and serves the greater metro area of Morgantown, WV, which also includes the city of Fairmont, WV. Some of the newest 2012 Ford models which have recently arrived at Toothman Ford include the Super Duty F-250, Focus SEL, Focus SE, Mustang Shelby GT 500, Escape XLT, and Explorer XLT to name a few. For auto consumers looking to buy one of these new Ford models in Morgantown, Toothman Ford offers an array of the newest Ford models to select from. Whether a consumer wants to buy a new Ford in Morgantown, new Ford in Grafton, or new Ford in Fairmont, Toothman Ford caters especially to the entire Morgantown region which includes all three of these cities in West Virginia. With the arrival of the newest 2012 Ford models, auto consumers throughout the Morgantown, WV region are now able to purchase the latest new Ford car or truck of their choice. Toothman Ford also offers customers various financing options on all new Ford models in stock.
Besides new Ford models, consumers looking to buy used cars in Fairmont or used trucks in Fairmont have a multitude of vehicle selections at Toothman Ford. Used Ford vehicles including the F-150 Lariat, Taurus SEL, Flex SEL, Escape Limited, Super Duty F-250 XL, Edge SEL Plus, and also a variety of other used Ford models which are conveniently located within the large used car inventory of Toothman Ford. As expressed by Dan McCollough, Sales Manager at Toothman Ford, "Toothman Ford places each customer first and deals with them like a family member by exhibiting a tremendous amount of regard for them within every area of our dealership. This can be adequately stated all of the time, whether the customer desires to obtain either a new or used Ford model from us. In the manner in which all automobile models vary, each auto dealership varies. At Toothman Ford, we possess an outstanding team of well-informed, friendly, and passionate experts in each field of the auto industry. We feel this is why we have such an excellent customer service track record, and it's also why our dealership has been successful over the years with consumers here in our area. We are also active in the community each Spring, by way of donating a portion of money for every car sold in the month of April to the Board of the Memorial Day Parade here in West Grafton. We also happen to be a local sponsor for that very same parade each Memorial Day."
One of the main advantages that Toothman Ford offers to area residents is that they are in a location which happens to cater to three fairly large cities in West Virginia, by the state's own size and population standards that is. Citizens throughout the metro Morgantown region are able to call on Toothman Ford each year for the latest line of all-new Ford car and truck models. With their large inventory of used cars, Toothman Ford is also able to meet the needs of consumers that are looking to buy a pre-owned Ford vehicle. Toothman Ford has one of the largest new and used car lots found throughout the entire state of West Virginia, and they are constantly adding Ford models to those new and used lots. Auto consumers in the greater Morgantown, WV area who are looking to buy either a new or used Ford vehicle have a substantial selection of Ford models to choose from whenever they are looking for one at Toothman Ford.
###