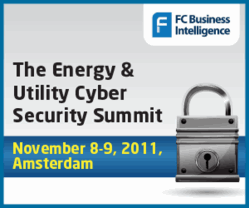 (PRWEB) November 01, 2011
Sources at FC Business Intelligence state that between 2010 and 2015 cumulative investment in the cyber security sector of the utility industry will top €15bn. Added to this global expenditure on oil and gas infrastructure security in 2011 is set to reach €19bn.
FC Business Intelligence's Energy & Utility Cyber Security Summit is gathering together lead decision makers from internationally renowned Energy & Utility companies including Shell, E-ON, EDF, Iberdrola and more to develop cyber security best practice guidelines to certify the security and reliability of your infrastructure and information assets.
The event organizers have extended the available space and are able to offer a €200 discount to anyone who registers this week – simply quote PR200 when registering.
The control system and utility cyber security market is at a crucial tipping point. If a real progress is to be made and a successful return on the €10trillion investment into modernizing European critical infrastructure is to be seen the following challenges need addressing:

The National and Pan European policies and initiatives driving this industry forward
The need for the certification of products and solution providers
The relationship of the control system and IT worlds
Understanding the potential threat and how to mitigate risk
Enhancing awareness in order to enhance your system resiliency
The two-day business-focused conference will bring together over 120 leaders of the energy & utility sector with the most innovative cyber security solution providers. E-On, EDF, Shell, Iberdrola, Elia, Alliander, Brabant Water and many more will discuss their control system, smart grid and SCADA cyber security strategies.
"The inaugural conference was a success bringing industry regulators, companies and vendors together for lively discussion and experience sharing." Aldo Nevarez, KEMA
"The information provided at this conference is valuable to anyone interested in keeping the lights on." Terry Jarrett, Missouri Public Service Commission
With 30 utilities already confirmed and 75% of attendees from energy, utility and government bodies sign up today to confirm your place.
Register for the conference before Friday 4th November entering the code PR200 and you will save €200 on your conference pass. To register securely go to:
http://secure.firstconf.com/cybersummits.com/eu/register.shtml
About FC Business Intelligence Cyber Summits:
FC Business Intelligence Cyber Summits are the most prestigious in the industry guaranteeing a high level of industry representatives. We produce the most well received cyber security forums in North America & Europe. We pride ourselves on attracting the most influential speakers providing a rich environment for establishing strategic relationships and networking.
###