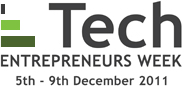 It is my goal to see London mature as a technology market, that can spawn its own Facebook, a company that not only launches but stay's in London forever
(PRWEB UK) 2 November 2011
London is admittedly many years behind Silicon Valley in terms of producing great sustainable global technology companies. This was true at least until recently when Martin Warner (Founder) created Tech Entrepreneurs Week http://www.TechEntrepreneursWeek.com, a new community that meets through an event and conference in London aimed at bringing an unprecedented level of venture capitalists together for the first time to review the UK's latest technology entrepreneurs business innovations. You might think what is new about this? Never before has so many venture capitalists (VC's) and angel investors been brought together to discuss and 'potentially work together' to launch the next Facebook.
Warner says, "I am bringing together a community, that don't just want to talk, they want to do a transaction". Warner goes on to say that Tech Entrepreneurs Week enables an investment community to leverage each other in the pursuit of larger rounds of funding that is so desperately needed to keep technology innovation in London. Part of the problem he say's is that when a technology company starts-out there are funding possibilities at the seed stage in the UK, but until recently, UK tech companies including his own company - Talkbiznow.com, are forced to move to Silicon Valley to seek larger rounds of funding if they are to grow on a global scale.
The problem lies in the fragmented nature of the evolving venture capital landscape in the UK. Warner argues that to build a more mature technology market in London and beyond, you have to build a more evolved and integrated relationship between tech investors and tech entrepreneurs, and facilitate the ideas and business opportunities so that they can be reviewed by venture capitalists together in one place, so that the opportunity to syndicate and work together between VC's becomes easier. Tech Entrepreneurs Week happens to be the largest event of its kind in Europe that focuses on bringing leading investors and entrepreneurs together. This event and conference has attracted most of the UK's and some of Europe's greatest tech innovators, and provided them a platform to meet and have their business ideas or business reviewed by the leading VC's and angel investors.
Warner said, "It is my goal to see London mature as technology market, that can spawn its own Facebook, a company that not only launches but stay's in London forever - only then will London be known as a world technology centre that could one day rival Silicon Valley".
Tech Entrepreneurs Week
5th-9th December 2011
http://www.TechEntrepreneursWeek.com
The Dorchester Hotel & The Decorium
-----Intro & Quick Event Facts-----
Tech Entrepreneurs Week is a leading UK national conference for entrepreneurs and investors in the technology industry. The event invites technology companies from all fields of technology, from consumer and enterprise software, hardware and architecture, to all web services and mobile applications businesses. All technology businesses are invited, particularly companies that are at the seed or venture stage if entering the Investment Competition. Technology firms from overseas are welcome too.
Quick Facts About Tech Entrepreneurs Week:

Leading UK national tech conference
High media focus: BBC, Sky, The Guardian, Wall Street Journal, The Times, Evening Standard, The Telegraph to name a few, plus blogs/online news like The Next Web
Broadcast TV covering us: booked with Ch4 News, ITN (ITV), Tech Crunch, Wired – strong positive PR surrounds the event
Largest investor/entrepreneurs technology conference in Europe
500-600 tech entrepreneurs in attendance, over 350 tech companies
200 investors (all major venture capitalists, institutional investors, angles, and FS firms like Silicon Valley Bank)
200 professional, agency and web services firms servicing technology
Event focus: investment funding, investor networking, visionary speaking (through keynotes), tech growth advisory, tech seminar education
Two locations: Tech Entrepreneurs Week Camp (Decorium, London), Final's Day (Dorchester Hotel, London)
Jimmy Wales, Founder of Wikipedia, Chair of Wikimedia and President of Wikia Inc is our Head of Jury
Many prolific professionals, have signed up from leading VC's to highly established super angels to be on our Jury Panel http://www.techentrepreneursweek.com/jury.html
Keynote Speakers, there will be 7 slots - http://www.techentrepreneursweek.com/speakers.html
Event target audience, tech entrepreneurs, tech investors, professional, agency and web services firms servicing tech in Europe, 80% UK demo
Entrepreneurs from tech coming from seed innovation and venture stage positions
The website has all the key information and is updated daily with announcements http://www.TechEntrepreneursWeek.com
###