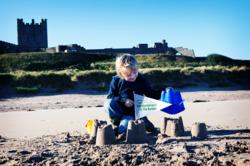 It is great to see such a comprehensive resource, not only for the visitor but locals alike.
Northumberland, England (PRWEB UK) 1 November 2011
A unique online travel, tourism and lifestyle magazine for Northumberland and the Scottish Borders has launched – selling the area's countless natural and cultural attractions to people in Britain and abroad.
http://www.thisisnorthumberland.com takes a completely new approach to the way travel and tourism information is delivered to potential visitors by combining news and features with searchable accommodation, event and activity databases. It is the first website of its kind in the UK.
Furthermore, it is the first time Northumberland and the Scottish Borders have been marketed as a single tourism destination, even though the history and customs of both areas have been irrevocably intertwined for thousands of years.
For centuries the Tweed formed the much-fought-over frontier between England and Scotland, but the launch of thisisnorthumberland.com reflects the fact that the river is no longer seen as a political boundary by visitors and locals - who enjoy moving freely between the two nations for pleasure and business.
The people behind the website are journalist and former Northumberland Tourism PR and marketing executive Sheelagh Caygill and well-known North East journalist Jane Hall, who have brought together some of the region's finest writing, film making and photographic talent to work on the venture.
They believe thisisnorthumberland.com will play a significant part in helping businesses fight back in the current economic turmoil and boost tourism – both long stay, weekend and day trips.
Sheelagh, who is based in Morpeth, said: "We did a lot of research before developing and launching the site and, as far as we know, there is nothing like it in the UK.
"Visitors and businesses told us they'd like to read news, features and interesting interviews alongside searches for accommodation, events and what to do."
Jane added: "Tens of thousands of people pass through Northumberland and the Borders each year, but we don't want them just passing through.
"By positively promoting what the area has to offer we hope they will choose to stay, enjoy the hospitality Northumberland and the Scottish Borders is justifiably famous for and spend money in local businesses."
Thisisnorthumberland.com offers a plethora of information by themes on everything from activities and destinations to food, reviews, history, culture, market towns, events, exploring, courses and travel planning coupled with engagingly written lifestyle features and informative daily tourism news updates.
It has downloadable walks and a special 'Secret Stories' section where Northumberland and the Scottish Borders' hidden tales are revealed. The team behind the site has had a specially commissioned video produced - promoting one of the UK's most special and beautiful regions - with others set to follow.
There is even a 'Your Country' section, designed to appeal to locals as well as visitors. An Industry section carries relevant business news.
Jane said: "We want residents to be aware of the numerous attractions the area has to offer from the breathtaking countryside and coast to stunning stately homes, world renowned heritage attractions like Hadrian's Wall, top-class museums and galleries, award-winning restaurants and pubs and charming and cosmopolitan towns and villages – all of which are waiting to be explored and which in many cases offer great free days out."
The launch of thisisnorthumberland.com has been welcomed by tourism and leisure businesses in the area. Northumberland National Park's communications team said the site is "A very well-executed online resource for visitors and people who love Northumberland to keep in touch with our special places and people."
Nationally acclaimed walking guide Jon Monks, who runs Rothbury-based Shepherds' Walks, said: "It is great to see such a comprehensive resource, not only for the visitor but locals alike."
Andy Craig, owner of a photographic business near Alnwick, added: "Thisisnorthumberland.com is positive, enthusiastic and passionate about the area it represents. Such a well-informed and up-to-date website is just what the visitor needs so they choose Northumberland as a destination."
The thisisnorthumberland.com team has put their own money into the venture and now intends to invest in search engine optimisation and additional site development to lift its profile.
The website utilises the power of social media with links to YouTube, Twitter and LinkedIn.
Jane, who was raised in Rothbury, continued: "We are passionate about promoting the area. We aim to put it firmly on the national and international travel map."
Thisisnorthumberland.com reflects the best of England and Scotland's border area through rich imagery, easy navigation, engaging writing, and user-generated content and provides consumers with all the information necessary to plan and book a vacation or day out.
Images are copyright Andy Craig Photography. Please credit.
MEDIA ENQUIRES
For more information and interview requests please call Sheelagh Caygill on 07545 596 465 or Jane Hall on 07880 923 507
http://www.thisisnorthumberland.com
Email: thisisnorthumberland(at)gmail(dot)com
Twitter: @Nland_Borders
Youtube: http://www.youtube.com/northumberlandborder
uk.linkedin.com/groups/Northumberland-Borders-4091844
###