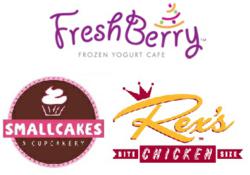 Raleigh, NC (PRWEB) November 03, 2011
John and Linda Lenzmeier have been busy lately. The couple has recently opened their second restaurant location in the Triangle area. The new restaurant, located in the Wakefield area, proudly features three distinct brands: Rex's Bite-Sized Chicken, FreshBerry frozen yogurt, and Smallcakes gourmet cupcakes. This is the second location that the Lenzmeier's have opened for Fresh Berry and Small Cakes; however, this is their first venture with Rex's Chicken. This new restaurant is the first tri-branded Beautiful Brands store in North Carolina.
Each of these brands boasts made-to-order food prepared daily. Rex's Bite-Size Chicken features homestyle sides, which are prepared in the kitchen every day using a variation of the owner's simple family recipes. FreshBerry's options feature low eight flavors of self-serve frozen yogurt, plus over 40 premium toppings. Smallcakes gourmet cupcakes boasts 15 varieties of cupcakes which are baked from scratch each day in the restaurant's kitchen.
In honor of their new location's opening, John and Linda Lenzmeier will be sponsoring a contest for each brand at both of their store's locations. One lucky winner will win free chicken for life from Rex's Chicken at their suburban store in Wakefield; another lucky winner will win FreshBerry's premium frozen yogurt for life; still another will win free Smallcakes cupcakes for life. At their Six Forks Station store, there will be two more winners, one for FreshBerry frozen yogurt and another for Smallcakes cupcakes. Contestants can enter to win these prizes by visiting the Facebook Pages for each of these brands and locations.
The first location is at Six Forks Station (Six Forks and Strickland), 8711-102 Six Forks Rd, Raleigh, NC 27615. The second location is 13200 New Falls of Neuse Ste 167, Raleigh, NC 27614—just north of the new bride on Falls of Neuse.
# # #