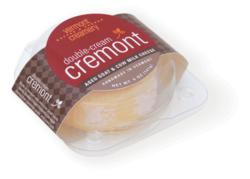 Websterville, VT (PRWEB) November 02, 2011
Vermont Butter & Cheese Creamery (VBCC) announced today that the newest addition to their Aged Cheese artisan line, Cremont, is now available in retail packaging. The specially designed container will help protect the cheese and allow it to continue to age from creamery to the table while maintaining a very creamy cheese.
Vermont Butter & Cheese Creamery is a leading producer of artisan cheese in the United States. "We have been making cheese for 27 years and the craft of turning milk into a tasty and good looking piece of cheese is something we know how to do very well," says Bob Reese, co-founder of the creamery. However, one of today's biggest challenges of any cheese maker is to be able to preserve the integrity of the product throughout the supply chain, whether the product is sold at the local market or sent across the country.
Since its launch back in May of last year, VBCC's Cremont cheese has been the fastest growing cheese within the creamery's artisan cheese and dairy line. "Our aged cheeses are very unique as they have a distinctive geotrichum rind that gives the cheese a delicate, wrinkly surface and sweet taste. They have been a very popular category of cheese in the retail market and the demand is strong," said company co-founder Allison Hooper.
Cremont, named after "the cream of Vermont" is a double-cream, blended milk cheese made with cows' milk and cream, as well as goats' milk. The cheese is aged for two weeks at the creamery before being packaged and distributed across the country. The new clam-shell style container allows for proper air movement around the cheese and better storage at the store as well as at home. The clear container is also ideal to show off the cheese's signature wrinkled rind. Cremont is available in its new retail packaging at Whole Foods Market and other specialty retail stores.
In their twenty-seventh year of business, Vermont Butter and Cheese Creamery is a leading American creamery crafting innovative, all-natural fresh and aged goat cheeses, crème fraiche, mascarpone, and European-style cultured butter. The creamery supports a network of more than 20 goat dairy farms, providing milk that meets the highest standards of purity, and is a proud contributor to the health of local agriculture.
# # #