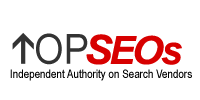 The Best Search Engine Optimization Companies Ranked by topseos.com for November 2011
(PRWEB) November 02, 2011
topseos.com, the independent authority on search vendors, has released their list of the fifty best search engine optimization companies for the month of November 2011. topseos.com uses a meticulous evaluation process which identifies the services which offer the most complete SEO experience in order to create a list of the best SEO companies. The list is used by businesses looking for specialized SEO services which will assist them in their online marketing in the form of improved organic search results through on page and off page optimization techniques. Each company has been tested using an evaluation process based on five key criteria, customer references, and other various resources to evaluate each SEO company.
The Managing Partner of topseos.com (http://www.topseos.com/), Jeev Trika, has stated that the "evaluation process for both agencies and software tools is meticulous. We review strengths, weaknesses, and competitive advantages."
The Top 50 SEO Companies for November 2011 are:
1) Webimax
2) Customer Magnetism
3) SEOP
4) Intrapromote LLC.
5) ArteWorks SEO
6) Bruce Clay Inc.
7) 1SEO.com
8) SEO Image Inc.
9) OneIMS – Integrated Marketing Solutions
10) WebMetro
11) MediaWhiz
12) Mannix Marketing
13) Static Media
14) HigherVisibility
15) 1st on the List Promotion Inc.
16) 180Fusion
17) Peak Positions, LLC
18) First Page SEO
19) Crexendo, Inc.
20) HighPoint Search Marketing
21) Hudson Horizons
22) SEO Inc
23) Pro Web Consulting
24) Web Talent Marketing
25) WebpageFX
26) PageTraffic
27) Submit Express
28) BlueGlass Interactive, Inc.
29) Outrider
30) Stone Interactive Group
31) eVisibility, Inc.
32) LeapFrog Interactive
33) Conductor
34) iProspect
35) The Search Agency
36) Spark Inbound Marketing
37) Qualified Impressions, LLC.
38) SEER Interactive
39) Exclusive Concepts, Inc.
40) ymarketing, LLC
41) Connelly Digital
42) WebRanking
43) evolveALOUD
44) Best Rank Inc.
45) SEO.com
46) ProspectMX
47) Position Research
48) ATAK Interactive Inc.
49) National Positions
50) OrangeSoda
The process which topseos.com uses to evaluate each SEO agency identifies which companies are able to achieve results and meet the expectations of their clients based on their promises and past performance. The end result is a list of the top vendors in the industry who have a history of achievements and results for their customers with each company providing a unique SEO service. For each company reviewed, at least three clients were contacted and actual performance and effectiveness of each SEO agency was determined. Different general and specific questions were asked of the SEO companies:

What type of needs analysis was conducted before work initiated?
What type of ROI were you anticipating, what was achieved and in what time frame?
What would be three things you would change about your experience?
What was your total investment?
Rate your overall experience (one through ten; ten being the highest).
What are the most competitive keywords you have been able to rank on the major search engines and how long did it take you to achieve those rankings?
Did the agency modify the way they achieved higher rankings for you based on the Universal Search model introduced by Google? How?
How comprehensive, specific, and useful are the reports that are offered to the client? What metrics do they cover?
Do the reports inform you what the next set of steps should be to achieve higher rankings and when you can expect to achieve the next set of goals by?
How many of your top industry keywords rank in the top 10? Which ones?
ABOUT topseos.com
topseos.com is a well-known independent authority on search vendors. Established in 2002, the goal of topseos.com is to recognize and rank those individuals or companies providing the best online marketing services all over the world. A specialized team of researchers examine thousands of applicants each month who are seeking to be ranked as a top internet marketing service provider by the independent authority. This website is being visited daily by thousands of visitors all over the world looking for the best services available. The website also provides various types of facilities other than the independent rankings which provide useful information to customers and providers of online marketing services.
Search Engine Optimization companies interested in applying for the evaluation and rankings service can visit:
http://www.topseos.com/rankings/search-engine-marketing-agencies/apply-for-ranking
To learn more about the Best SEO Companies for November 2011 visit:
http://www.topseos.com/rankings-of-best-seo-companies
###