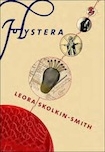 "Mesmerizing, haunting..Hystera is nothing short of brilliant"
-Caroline Leavitt, NY Times Bestselling Author of PICTURES OF YOU
New York, New York (PRWEB) November 03, 2011
Set in the turbulent 1970s when Patty Hearts became Tanya the Revolutionary, Leora Skolkin-Smith's Hystera is a timeless story of madness, yearning, and identity. After a fatal accident takes her father away, Lillian Weill blames herself for the family tragedy. Tripping through failed love affairs with men, and doomed friendships, all Lilly wants is to be sheltered from reality. She retreats from the outside world into a world of delusion and the private terrors of a New York City Psychiatric Hospital. Unreachable behind her thick wall of fears, the world of hospital corridors and strangers become a vessel of faith. She is a foreigner there until her fellow patients release her from her isolation with the power of human intimacy. How do we know who we really are? How do we find our true selves under the heavy burden of family and our pasts? In an unpredictable portrait of mental illness Hystera penetrates to the pulsing heart of the questions.
ADVANCE PRAISE:
"Hystera is a haunting, mesmerizing story of madness, longing and identity, set against one of the most fascinating times in NYC history. Skolkin-Smith's alchemy is to inhabit her characters even as she crafts a riveting story that is nothing short of brilliant." Caroline Leavitt, New York Times bestselling author of "Pictures of You", Reviewer, The Boston Globe, PEOPLE Magazine, NY Times Review of Books.
"In language with the wild power of accuracy, Hystera maps a path through the landscape of trauma and illness, the feverish news of the seventies, and a character's own indelibly vivid imagery of alarm and comfort. An eye-opening novel.
--Joan Silber, author of Ideas of Heaven: A Ring of Stories, finalist for the National Book Award.
"Inside a psychiatric ward in the 1970's, Leora Skolkin-Smith's HYSTERA takes you on a ride through the wilderness of a young woman's emotional trauma and breakdown, and seizes upon the intricacies of mental health, our phobias, and fears around it. Brilliantly envisioned, this story of passion and familial dysfunction, bears witness to an exquisite reknitting of a young woman's soul, told in language that is brave, startling, an ultimately tender and wise."
--Jessica Kenner, author of Night Swim
"Leora Skolkin-Smith's novel Hystera is an unforgettable story of mental illness. Set in the New York City of the 1970s, the book is told in precise language that sears the characters into your consciousness."
--LargeHearted Boy
"Leora Skolkin-Smith's new novel, "Hystera," provides a very vivid sense of being in the head of someone having a psychotic breakdown, and is a powerfully useful reference book for dealing with the mental-health system. It also pungently evokes the gritty New York of the '70s."
—Robert Whitcomb, reviewer "The Providence Journal"
# # #