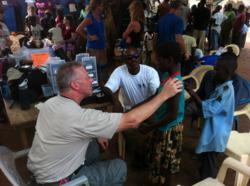 Creating and improving innovative processes to better serve patients is an exhilarating part of my work.
David Vanderpool, MD
Brentwood, TN (PRWEB) November 02, 2011
LAVE MD, http://www.lavemd.com, Laser And Vein Esthetics, was founded in 2003 by Dr. David Vanderpool. An early adopter of effective technology in his field of medicine, Dr. Vanderpool quickly embraced the EndoVenous Laser Technique, http://www.angiodynamics.com, in 2003.
This innovative technique transformed the old fashioned vein stripping operation with its inherent hospitalization, pain, protracted time off work and high recurrence rate to an office based procedure with immediate return to work and exercise potential, minimal pain and high success rates. Having performed thousands of these highly successful procedures, Dr. Vanderpool continues to research and develop new methods to improve the success of varicose vein treatments.
LAVE MD is a social entrepreneurial company founded in Brentwood, TN in 2003 to support the efforts of Mobile Medical Disaster Relief, http://www.mmdr.org, a non-profit organization which provides medical care, clean water initiatives and micro finance opportunities to disadvantaged people in developing countries.
###