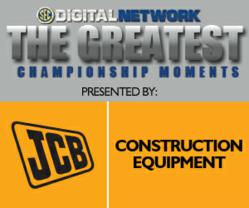 JCB is a great sponsor for this unique SEC Digital Network campaign and we look forward to finding out which moment fans select at SEC Fanfare in December.
Birmingham, AL (PRWEB) November 01, 2011
The Southeastern Conference, in conjunction with the 20th anniversary of the SEC Football Championship game, today announced the launch of The Greatest Championship Moment campaign, which will give SEC fans the opportunity to select the best play from the previous 19 SEC Championship games. This unique campaign celebrating the conference football championship is built by the SEC Digital Network and presented by JCB Construction Equipment.
"We are proud to announce The Greatest Championship Moment campaign which highlights some of the most memorable plays in SEC Football Championship Game history over the past 19 years," said SEC Assistant Commissioner Charlie Hussey. "JCB is a great sponsor for this unique SEC Digital Network campaign and we look forward to finding out which moment fans select at SEC Fanfare in December."
Beginning today, fans can visit SECDigitalNetwork.com/Greatest and vote in the bracket based campaign. The initial bracket of great plays is made up of 16 moments that were selected based on fan feedback and suggestions. These moments capture the many great individual and team performances from two decades of SEC Championship clashes, from Birmingham to Atlanta. Fans will have the opportunity to re-live some of their greatest championship memories and remember the great players who have participated in this event through the years.
Over the next four weeks, the moments will be narrowed down to the top two plays of the previous 19 championship games. The Greatest Championship Moment as selected by SEC fans will be announced on Saturday, December 3 at SEC Fanfare prior to this year's championship game. Fans will be able to see all of the nominated moments as part of a JCB-sponsored interactive display in the Georgia World Congress Center.
"JCB is pleased to sponsor The Greatest Championship Moment campaign. Our North American headquarters in Savannah, GA is in the heart of SEC country and many of our employees, dealers and customers are avid fans," said John Patterson, Chairman and CEO of JCB. "We are looking forward to the competition and to finding out which moment comes out on top."
About XOS Digital, Incorporated:
Founded in 1999, XOS Digital is the leading provider of digital asset management solutions for collegiate and professional sports organizations. Conference officials, league offices, coaching staffs and athletic departments rely on the XOS portfolio of products and services to manage, analyze, archive, distribute, protect and monetize their digital assets. The XOS Thunder™ Coaching Platform, XOS Xchange™, XOS PlayerOnDemand™, XOS Digital Licensing Portal™, and the XOS Digital Sports Network™ digital media distribution technology provide the most advanced, comprehensive digital asset management solution available in the world. For more information, visit http://www.xosdigital.com.
About JCB Construction Equipment:
JCB has 18 plants on four continents: 11 in the UK, three in India and others in the USA, China, Germany and Brazil and employs more than 10,000 people worldwide.
JCB is a family owned business and is lead by Sir Anthony Bamford who has been Chairman of JCB since 1975. He succeeded his father, Joseph Cyril Bamford, who started the privately owned family business in Uttoxeter, UK in October 1945.
The company manufactures more than 300 different machines including: backhoe loaders; Loadall telescopic handlers; tracked and wheeled excavators; wheel loaders; articulated dump trucks; rough terrain forklifts; mini excavators; skid steers loaders; and compaction equipment.
In 2005, JCB secured one of the largest orders in its history when it won a $290 million deal to supply the U.S. Government with High Mobility Engineer Excavators (HMEEs). Full scale production of the HMEE is currently underway at JCB's plant in Savannah, Ga., USA. The HMEE fulfils a need from the military for rapid deployment high mobility products. To further meet these requirements; JCB has also developed a range of other high mobility product.
# # #