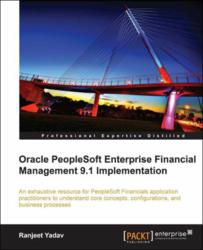 An ideal one-stop resource for PeopleSoft Learning needs
UK (PRWEB) November 05, 2011
Birmingham: Packt Publishing is pleased to herald the arrival of another book in its ever expanding Oracle book catalog: Oracle PeopleSoft Enterprise Financial Management 9.1 Implementation. This book and eBook is an exhaustive resource for PeopleSoft Financials application practitioners who wish to understand core concepts, configurations, and business processes.
Oracle PeopleSoft Enterprise Financial Management 9.1 Implementation begins with the fundamentals of a generic financial ERP system. It then moves on to basic PeopleSoft concepts, where individual modules are discussed in detail. This book will help readers understand the philosophy of a financial ERP system and PeopleSoft's particular approach. It not only teaches how to control access to system features, but also explores the customer invoicing process along with configuring the Billing module. Readers will be able to explore how organizations perform budgeting activities through commitment control and perform implementation activities using the Setup Manager. More details can be found on the Packt website.
Functional implementation analysts, business analysts, and business users will find this book to be a valuable addition to their Oracle libraries. The book is available from Packt and other leading retailers in print, eBook, Kindle and online library formats.
About Packt.
Packt Publishing is one of the world's leading Publishers of Oracle titles. To date it has published more than 50 Oracle books across a wide variety of topics. Recent publications have included:

Oracle WebCenter 11g PS3 Administration Cookbook
Oracle 11g R1/R2 Real Application Clusters Essentials
Oracle Enterprise Manager Grid Control 11g R1: Business Service Management
Packt has a full title pipeline for the remainder of 2011 and into 2012. Future (announced) titles include:

Oracle Hyperion Interactive Reporting 11 Expert Guide
Oracle JD Edwards EnterpriseOne 9.0: Supply Chain Management Cookbook
Oracle BI Publisher 11g: A Practical Guide to Enterprise Reporting
Packt's stated aim is to become the number one resource for Oracle Learning in book, eBook and new technology formats. What is Oracle? Packt hopes to have the answer.
###