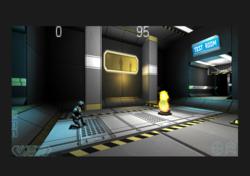 SkillPod has success with Android and Apple iOS mobile game app titles.
(PRWEB) November 03, 2011
SkillPod Media, although a relatively new player in the world of mobile apps and, more specifically, mobile game apps, is making headway in this congested market. The first of their apps were launched at the end of June 2011 and are currently published across Apple iTunes, Android Market, Amazon App Store, SlideMe.org, LG World and a host of other app stores across the globe. To date, 11 mobile games have been developed for Android and Apple iOS, all of which have been approved and are for sale across the various app stores.
The first batch of these mobile app store game titles were deployed with 3 different focuses, these being; A - Free games with ad support, B - Trial versions that include ads and have only a few active levels, C - pay for download, with no ads included. With this data in hand the SkillPod team have launched their next batch of game titles onto the Apple iOS and Android platforms. Special emphasis has been placed on developing unique new titles, with additional emphasis on the design elements, storylines and the inclusion of interactive elements that include sharing to Twitter and Facebook and the posting of user's scores to the SkillPod global leaderboard framework. Thus users are now able to see how they rank against the rest of the users playing that specific title. The first of these new titles include; Bouncing Pigs, Moo Poppers and Alley Kid, all of which are available in 8 languages. These titles have been live across the network of app stores for the past few days and this new approach is already paying off as the number of downloads are breaking all previous revenue records achieved by SkillPod's 1st generation mobile games.
Fast Facts and Statistics, relating to the SkillPod app store experience:
1. Research shows that the average app never achieves above 1,500 downloads, all the SkillPod apps have achieved 600% and above this average.
2. The SkillPod games apps have already been downloaded in 89 countries. 13 new titles in 3 months.
3. Top 4 countries for Game App Purchases = Australia, USA, UK & Italy.
4. Game Apps sold in 13 app stores across the globe.
5. App store revenues increase on average of 12% month on month.
6. App store downloads increase at a rate of 52% month on month (850% increase in past 3 months).
7. Mobile ad revenues increasing at a rate of 18% month on month.
8. Most popular game genres are 3 in a Row / Bubble Shooting titles, such as Bouncing Pigs, Zen Blaster and Moo Poppers.
9. There's already significant interest from Brazil, India, China and Europe, with agreements already concluded for services such as re-skinning and localising the game apps and with these games apps then being published globally.
There are 3 new titles in the next batch of new premium titles, the first of which will be launched within the next week. Bird Bombers will be the 1st of the next generation titles, with the SkillPod creative team having placed a lot of emphasis on the artwork for the game screens and game characters and objects. The game features 8 stages, each with 5 levels featuring new challenges per level, making for an engaging and challenging game. This keeps the user engaged in the game play and they are forced to work-out various scenarios and strategies to complete this action packed title, while still ensuring that the experience remains fun and engaging. Future versions of Bird Bombers will allow users to purchases additional stages and levels, keeping players interests up and ensuring they stay at the top of the global leaderboards.
Following on from Bird Bombers will see the release of Frankie Pain. The game is a 3rd person shooter puzzle platform game and sees a design style focused on 3D characters and scenes. Again, a lot of emphasis has been devoted to the creative elements of this new game title. The first release of the game will have over 20 levels, with a detailed storyline that Frankie needs to follow to save Earth being overrun by an aggressive alien race. The player will be given a large arsenal of weaponry, equipping two at a time, and may also summon a creature of their choice which will grant them various abilities. Enemies will run, shoot, fly and even pop out of the ground – anything to stop Frankie from completing his goals. Future updates will include more weapons, monsters and even a local and online multiplayer experience.
The benefit to publishers and advertisers is that all of the mobile game titles developed by SkillPod can be fully translated, branded and can even be fully re-skinned. To date there's been a lot of interest from the global market with ad networks, agencies and regional app stores in regions such as India, China, Europe and Brazil contracting SkillPod to create unique versions for them. SkillPod have seen an incredible jump in enquiries from organisations wishing to have custom games and applications developed for the Apple iOS and Android platforms.
The SkillPod creative team and engineers are currently reviewing various Location Based Services (LBS) and augmented reality SDK's for inclusion in their next generation mobile game titles. SkillPod aims to release 1 premium game title every month, these will all feature the interactive elements, ability to do in-game purchases for additional levels and will all be translated into at least 8 languages, including Chinese, Russian, French, German, Portuguese and some of the other more popular languages.
About SkillPod Media:
SkillPod Media is a South African based game solutions provider. The business has a global reach with clients in South Africa, Netherlands, India, United Kingdom, United States of America, Luxembourg, Belgium, Croatia, Portugal, United Arab Emirates and a number of other regions. The primary focus of the business is the development of various online, mobile and social games platform solutions and the development and customisation of games titles for online, Facebook, mobile, including for: Android, Apple iOS and Symbian.
###