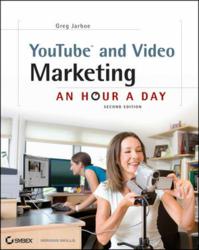 Greg continues to speak on YouTube video marketing and optimization at SES Conferences globally while hosting interviews with some of the brightest marketers on the planet for the SES Conference & Expo YouTube channel
Chicago, IL (PRWEB) November 03, 2011
Marketers and SEO professionals attending SES Chicago 2011 will have several opportunities to meet Greg Jarboe, President and co-founder of SEO-PR and author of YouTube and Video Marketing: An Hour a Day.
A Video Optimization expert, Jarboe will be participating in the "Meet the Experts: Roundtable Forum" on Tuesday, Nov. 15, 2011, at 4:30 p.m. He will be the moderator of the "Screw Viral Videos" session in the Social Media Track, on Wednesday, Nov. 16, at 2:30 p.m. He will also be a speaker at the "Next Gen YouTube Marketing" session in the Social Media Track later that afternoon at 5:00 p.m.
The second edition of YouTube and Video Marketing: An Hour a Day debuted last week on Amazon.com, Barnes & Noble, and Wiley. The book is published by Sybex, an imprint of Wiley.
Jarboe's social media marketing book has been praised by SEO-PR clients, including Matthew McGowan, Managing Director, Americas, Incisive Media, which produces the SES Conference & Expo.
McGowan says, "Greg is the premier chronicler of YouTube and its continued evolution. I'm thrilled that he brings analysis of the latest YouTube developments to the readers of Search Engine Watch. Now with the 2nd edition of his YouTube Video Marketing: An Hour a Day, Greg takes it one step further, dissecting YouTube's impactful advertising tools and explaining to marketers how they can take advantage of the full roster of video optimization techniques that are sure to appeal to budgets of all sizes. Greg continues to speak on YouTube video marketing and optimization at SES Conferences globally while hosting interviews with some of the brightest marketers on the planet for the SES Conference & Expo YouTube channel."
In 2010, Incisive Media's SES team won the Best Use of Social Media award at the first Conference Awards. The award was for events which benefited significantly from the use of social media -- including YouTube, Flickr, blogs, Facebook, Twitter, LinkedIn, and Meetup.
About the Author
Greg Jarboe is President and cofounder of SEO-PR, which specializes in search engine optimization, online public relations, online video marketing, and social media marketing. He is a frequent speaker at SES conferences and is a regular contributor to Search Engine Watch and ReelSEO. He teaches courses in several Rutgers Mini-MBA Programs and is also a member of the Market Motive faculty. Jarboe was a contributor to Guy Kawasaki's Enchantment: The Art of Changing Hearts, Minds, and Actions, and was profiled in Michael Miller's Online Marketing Heroes: Interviews with 25 Successful Online Marketing Gurus.
Jarboe and the SEO-PR team are offering a free SEO audit for qualified YouTube partner channels. To request an audit, provide your contact information at: http://www.seo-pr.com/reelseo-youtube-optimization.
About Sybex®
Sybex has been a leading publisher for the global information technology community for over 30 years. Known for its high-quality publications written by respected authors who combine practical experience with a passion for teaching, Sybex publishes in five major subject areas—3D graphics, CAD/CAM, internet marketing, IT administration, and certification. Sybex has publishing partnerships with prominent companies and organizations such as Autodesk, CompTIA, CWNP, and Guidance. For more information, visit sybex.com. Sybex is an imprint of Wiley.
###