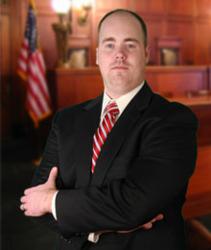 ...the consequences need to be as real for the bar as they are for the general public who are harmed by the reckless disregard of the very reasonable alcohol sales rules.
Dallas, TX (PRWEB) November 04, 2011
In a recent lawsuit filed in Dallas' 95th District Court (Cause No: 11-11279), a Metroplex Applebee's restaurant is being cited for alleged involvement in a fatal drunken driving accident that occurred in early 2010. The lawsuit, filed by Dallas drunk driving accident attorney Keith Purdue of Grossman Law Offices, states that Applebee's acted negligently in continuing to serve alcohol to an already intoxicated patron, who then caused a fatal accident within minutes of leaving the restaurant.
The accident in question claimed the life of Juanita Annette Aldape, a passenger in the vehicle driven by the allegedly intoxicated defendant. As stated in the lawsuit, "The collision caused Hector Cantu's vehicle to go airborne over the guardrail and into the creek below the bridge. The vehicle landed on its roof crushing Juanita Annette Aldape. As a result of the incident, Juanita Annette Aldape sustained injuries that resulted in her death."
"It's important to note," attorney Purdue stated, "that it's not illegal for bars to serve alcohol or for patrons to imbibe, even to the extent that they feel the effects of alcohol to a reasonable and enjoyable degree. A licensed provider of alcohol breaches the duty they owe to the public and therefore assumes liability when they serve a person to such a high degree of intoxication that the well being of the general public is put in jeopardy. To clarify, when a bar continues to serve additional alcohol to an already intoxicated patron, the bar does so with explicit understanding that they are violating the rules of safe alcohol service. . That is precisely what the plaintiffs are alleging occurred in this incident."
According to the plaintiffs' original petition, "On or about April 16, 2010, Applebee's sold, served, and/or provided alcoholic beverages to Hector Cantu, even though it was apparent to Applebee's that Hector Cantu was obviously intoxicated to the extent that he presented a clear danger to himself and to other persons."
Despite a Texas Supreme Court decision, F.F.P. Oper. Partners v. Duenez, 237 S.W.3d 690, 694 (Tex.2007), that created considerable hurdles for plaintiffs in liquor liability cases, Purdue and the other attorneys of Grossman Law Offices have found a niche in successfully pursuing these often controversial legal matters. "While most other plaintiffs' lawyers see the Duenez decision as a death blow to dram shop cases, particularly first party dram shop cases, my track record in resolving these cases successfully underlines the fact I feel otherwise. I firmly believe that Texas juries are intelligent and that they are capable of understanding complex matters such as these, so long as you abandon the legalese and illustrate how the dram shop laws do in fact make perfect sense," Purdue stated matter-of-factly.
"I'm fully aware of the criticisms of liquor liability cases," attorney Purdue added in acknowledgment of the critics' view that liquor liability cases unfairly blame a bar or restaurant for accidents caused by intoxicated drivers. "...but the simple fact of the matter is that if bars follow the rules of safe alcohol service, which they legally swear to abide by when they obtain their alcohol sales permit, then they have nothing to fear. Alternatively, when a bar chooses to ignore these rules and they sell additional alcohol to patrons who are already clearly intoxicated, the consequences need to be as real for the bar as they are for the general public who are harmed by such a reckless disregard of the safe alcohol sales rules."
Purdue explained further that the purpose of a dram shop lawsuit is not to reallocate the liability of the drunken driver onto the bar, as critics often cynically suggest. Rather, the purpose is to hold both the bar and the drunken driver accountable relative to their unique contribution to the fatal incident.
Attorney Purdue and his colleagues are unabashed in their pursuit of bars and restaurants which violate the safe alcohol service rules as set forth by the Texas Alcoholic Beverage Commission; a point they make abundantly clear on their website http://www.isuedrunks.com. Spend any time talking with the attorneys and staff of Grossman Law Offices and it's obvious that the firm focuses a significant amount of resources prosecuting drunken driving civil cases.
The firm's founder, Dallas drunk driving accident lawyer Michael Grossman, openly acknowledges as much. "Dram shop cases represent a significant portion of our caseload for two main reasons," attorney Grossman Stated. "The first is that we have unique and considerable experience, having successfully litigated a multitude of these cases, which translates into clients and other attorneys alike seeking our involvement. The second reason is that we are incredibly passionate about these cases; a fact that is well known throughout the legal community. Several members of our staff have lost loved ones to drunken drivers, so every drunken driving case that we win is not just a triumph for our business or even for our client; it is a matter of personal pride in knowing that we legitimately are fighting back against the bars who have operated with relative impunity for so long."
This lawsuit represents one of two pending lawsuits that Grossman Law Offices is currently litigating against Applebee's [see also Dallas 101st Judicial District Court (Cause No: 11-09825)]. The lawsuit is seeking unspecified damages.
About Grossman Law Offices:
Grossman Law Offices is a Dallas-based plaintiffs' firm that has litigated dram shop cases for more than two decades. Armed with an in-house investigation team, alliances with respected toxicologists and alcohols sales consultants, and a comprehensive understanding of the relevant statutes and case law, the Texas dram shop attorneys of Grossman Law Offices have the skills necessary to litigate both first and third party drunken driving cases.
###