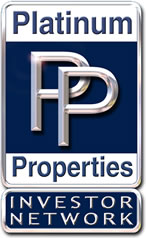 "When it comes down to it, screening for a real estate business partner is a lot like screening for a marriage partner or a roommate," said Jason Hartman.
Irvine, CA (PRWEB) November 01, 2011
Acquiring an income property requires more capital than buying a share of stock or an ounce of gold. On the word of Jason Hartman, creator of the Complete Solution for Real Estate Investors™ and founder of Platinum Properties Investor Network, this reality of investing leaves many new investors wondering whether or not they should find cash partners for real estate when they're ready to buy.
After many years in the income property business, Platinum Properties Investor Network says the answer is "yes"—with a few caveats. Nobody wants to be left holding the bag when a real estate deal goes wrong; therefore, Hartman advises new investors to avoid these three mistakes:
1. House by House Only: Do not, under any circumstances, add your partner's name to a Limited Liability Company you're using in other ventures. Doing so would make that person a partner in your entire business venture. Partnering on a specific rental property is fine but keep the arrangement on a property-by-property basis only. The problem with making a cash partner an equal on your LLC is that it becomes hard to dispose of that partner if something goes wrong. Partnering on a property-by-property basis allows investors to isolate and contain the financial damage generated by choosing a bad partner. My grandmother was very sage in saying that the hardest ship to sail is a partnership.
2. Get it in Writing: While they didn't invent writing just so real estate investors could outline their agreements with business partners, it makes a lot of sense to take advantage of a written contract. For all practical purposes, if it's not in writing, it might as well not exist. Even though the law recognizes oral agreements as binding, it can get tricky to prove in a court of law. It doesn't matter if it's your brother, mother or grandmother, write down such particulars as how the profits are to be split, who contributes what to the deal and an exit strategy for individual parties.
3. Five Deal Rule: It's not out-of-line to ask a potential cash partner to provide evidence of success. Platinum Properties Investor Network recommends three to five deals as a rule of thumb. It's quite simple: after attending your local Real Estate Investment Association(REIA) using our network meeting and asking around to get a general opinion of "John Doe," you need to go straight to the horse's mouth, Mr. Doe himself. Ask him to provide details about three to five deals in which he has participated and the corresponding addresses. If this makes you cringe, you're not ready for a partner. The real estate industry, like the stock market, has a long history of insiders and seasoned investors swindling new investors out of their money. If Mr. Doe claims to be a guru but can only come up with one deal as evidence, say "thanks but no thanks" as you walk quickly in the opposite direction.
The lowdown on finding real estate partners is that there are two sides to the equation. A new investor is either going to be the one with money to put forth or the one bird-dogging for deals. If you're the successful investor with cash to spend on deals, be glad your new partner has the sense to screen potential partners. New investors with no money to invest cannot afford to waste time with a "successful" investor who really isn't.
"When it comes down to it, screening for a real estate business partner is a lot like screening for a marriage partner or a roommate," said Jason Hartman, host of The Creating Wealth Radio Show. "Unfortunately, there is no one-size-fits-all screening method. At some point, you have to stop researching, or risk scaring off all potential investors with your paranoia, and take the plunge."
Hartman says to watch for self esteem and work ethic issues. Talk to a potential partner enough to see if they think like an employee or an entrepreneur. An employee mindset is obsessed with things like regular paychecks and a time-clock mentality. It's important to partner with someone who is in it for the long haul, realizes that the financial benefits might be a long time in coming and understands that success often requires working more than forty hours a week.
About Platinum Properties Investor Network
Platinum Properties Investor Network was created to help people achieve The American Dream of financial freedom by purchasing income property in prudent markets nationwide. Designed by Jason Hartman, the company's Complete Solution for Real Estate Investors™ is a comprehensive system providing real estate investors with education, research, resources and technology to deal with all areas of their income property investment needs.
Through podcasts, educational events, referrals, mentoring and software to track investments, investors can easily locate, finance and purchase properties in exceptional markets with confidence and peace of mind. For information, visit Platinum Properties Investor Network online.
###