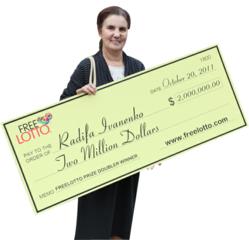 I couldn't believe I WON! But now that I have won I know for sure that anyone can win such a sum!
(PRWEB) November 02, 2011
Born in Kazakhstan, Radifa Ivanenko won her first lottery back in 1999 when she secured a green card in the Green Card Lottery and was able to move to the United States. Twelve years later, Ivanenko has another big win to celebrate - this time winning a grand total of $2,000,000.00 playing an online lottery-style sweepstakes at FreeLotto.com®, a website that offers players six daily games with a chance to win over $11,000,000.00 for free. Ivanenko became a FreeLotto member on June 15, 2011 and loved playing the game. Unfortunately, her job as a long haul truck driver, delivering goods from coast to coast, can keep her away from home for up to a month at a time without an internet connection – preventing her from playing as often as she'd like.
FreeLotto Automatic Subscription Ticket (F.A.S.T.), a subscription service offered by FreeLotto.com that automatically plays a user's lucky numbers for all six games every day, was the solution to her problem. Ivanenko signed up for F.A.S.T. by selecting random numbers she wanted to be played for her every day and paid a modest monthly service fee ($14.99 for 30 days, less than 9 cents a game). At the same time, she was offered FreeLotto's Prize Doubler service which automatically doubles any prizes won. Ivanenko paid for both services and three months later won $1,000,000.00 x 2 for a total of $2,000,000.00.
When she discovered her big win, Ivanenko immediately called her two daughters to share the news but they didn't believe it. Ivanenko wasn't so sure herself and it wasn't until FreeLotto arranged to fly her to New York City for the check presentation and met her at the airport with a big check that the whole thing became real.
Ivanenko takes over as FreeLotto's latest millionaire, succeeding Edward Cohen of Wallingford, Connecticut who won $1,000,000.00 on June 22, 2011. Ivanenko becomes FreeLotto's 22nd winner of $1,000,000.00 or more, joining the roster of FreeLotto® millionaires around the world that includes Raja Khan from Lahore, Pakistan; Alejandro Llano from Mexico City, Mexico; William Herriott from Glasgow, Scotland; and Eric Prevost from Calvados, France. This jackpot brings the total awarded in FreeLotto's sweepstakes to over $93 million. When asked how she plans to use the winnings, Ivanenko said she will buy herself a house and a car as well as help her two daughters and four grandchildren. She also said she doesn't plan to retire just yet and will continue working while her health allows.
About FreeLotto.com®
Freelotto.com® is the largest online lottery-style sweepstakes website. Since 1999, FreeLotto® has awarded over $93 million in cash and prizes. FreeLotto.com is an advertising supported website that offers players the chance to win cash everyday with the following games: FreeLotto® $1 Million Cash Classic, $10K Fast Cash, $100K Pay Off Your Mortgage, $50K Win A Car, $100K Giveaway and $10 Million FreeLotto® Superbucks. To participate in FreeLotto®, players log onto http://www.FreeLotto.com, select their numbers on a gameboard and then click an advertising banner or answer a question to submit their bet for free. To learn more, visit: http://www.FreeLotto.com.
###