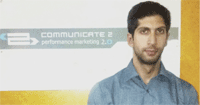 "Ronny shall be able to help the large e-commerce sites automate parts of their campaigns to leverage the long tail of keywords and exponentially increase efficiencies of their paid search endeavors."
Mumbai, Maharashtra (PRWEB) November 02, 2011
Communicate 2, one of leaders in Search and Digital Consulting in India has appointed Ronny Raichura as Head of its Paid Search Division (Pay Per Click). He joins Communicate 2 from Kenshoo UK. He has earlier worked with prestigious companies like Mediacom and Marin Software. Ronny has more than six years of enterprise level search experience in the UK market.
In his new role at Communicate 2, Ronny will oversee key strategic accounts such as Cleartrip, ICICI Lombard, HDFC Bank, Remit2india, DSP BlackRock amongst others. Ronny will be providing Communicate 2 with Automated Real Time Technology Integration into it's large paid search accounts.
Ronny was earlier Account Director at Kenshoo UK, one the largest optimization tools companies in the world and managed search for networks such as Omnicom, Havas, Vivaki and clients such as Shop Direct, First Choice, Next, Thomson Holidays etc. He was accountable for clients that spent in excess of USD 30 million dollars a year.
Prior to Kenshoo, Ronny has worked with Universal McCann, MediaCom and Marin Software, where he worked with clients such as Royal Bank Scotland, Bose, Microsoft, Virgin Group, More Than etc.
Vivek Bhargava, Managing Director, Communicate 2, said, "The Paid Search has evolved in the past decade in India and technology is going to be the spinal cord of PPC over the next five years. I'm delighted that Ronny is joining us as the Head of PPC. As real time changes to landing pages, ad-copy and bids based on conversion can bring tremendous efficiencies to Enterprise Search Campaigns".
Ronny believes that, "Most of the PPC technologies are similar to each other, however the key differentiation is the expertise required to custom develop a solution to best leverage the technologies. My expertise of working with the technology-based companies in custom developing technologies as per the needs of the enterprises shall help in increasing the ROI enterprises receive from their Paid Search Endeavors."
Benedict Hayes, Head of Strategy, Communicate 2, added that, "Globally almost 40% of paid search budgets are spent on retail, currently in India it may be less than 5%. The e-commerce is reaching tipping point in India as evident in the last 12 months. Ronny shall be able to help the large e-commerce sites automate parts of their campaigns to leverage the long tail of keywords and exponentially increase efficiencies of their paid search endeavors."
Vivek further added, "Digital is moving from lead generation to brand building, while campaigns are moving from demographic targeting to psychographic targeting, it is going to get impossible running campaigns having millions of keywords without sophisticated automation tools. We being one of the largest Search and Digital Consulting Companies in India, hiring Ronny is a key step for us to maintain our leadership in the space."
###