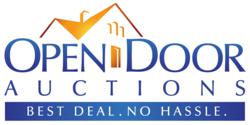 With the traditional way of selling real estate, all a seller could do was sit there and take it while the value of that house, probably his greatest asset, was whittled away by local real market conditions, said Jason Hartman
Irvine, CA (PRWEB) November 02, 2011
Open Door Auctions, Inc., a revolutionary way to buy and sell property quickly and effectively, recently researched the average length of time it takes to sell a house in various areas around California: Orange County, San Diego, Los Angeles, San Bernadino and Riverside. The big picture view is that, while the average time spent on market was high in 2010, this year the numbers look even worse for sellers. Here are the details:
Orange County
2010 – 90 days on market
2011 – 114 days on market
San Diego
2010 – 95 days on market
2011 – 115 days on market
Los Angeles
2010 – 70 days on market
2011 – 91 days on market
Riverside
2010 – 45 days on market
2011 – 88 days on market
San Bernadino
2010 – 58 days on market
2011 – 81 days on market
What can we learn from this mess, besides the fact that Orange County and San Diego are hellacious places to sell a house? How about this: the average time it takes to sell a house in these five markets is over 90 days. During those three months, one can safely bet that the market price will decline, considering that Southern California hasn't found a bottom yet. The reality of the situation is that properties are losing value the longer they sit on the market.
"With the traditional way of selling real estate, all a seller could do was sit there and take it while the value of that house, probably his greatest asset, was whittled away by local real market conditions," said Jason Hartman, CEO of Open Door Auctions. "This is why the innovative business model of Open Door Auctions works so well. Our entire process from listing to sale only takes 14 days."
Compare that to the Southern California average of 97 days using the old way of listing. With a 14 day window, sellers can expect that their house value will remain essentially unchanged. Expand that to 97 days and a seller is taking a chance that the market price will have declined substantially.
Open Door Auctions thrives on the concept of momentum and velocity. Even the best real estate agent can't possibly hope to keep interest in a property at a fever pitch over three months. The Open Door Auctions philosophy is to list a property and then market strongly for a short period of time—and then sell it in two weeks. This draws much more focused interest than prolonging the process for months on end.
Open Door Auctions also likes to appeal to the natural tendency of humans to gravitate towards scarcity. People who are interested in a home know that it will likely be gone in a matter of days. This forces them into a quicker decision.
"You might be surprised how often they choose to make an offer rather than risk the chance of not being able to get the property at any price," adds Hartman. "Our business model thrives on velocity, momentum, and scarcity. Actually, it's the old way of doing business, using the death by slow torture approach of taking months to sell a house, which could be called cruel and unusual punishment."
Essentially, house sellers put their lives on hold for the duration of the sale. It's tough to move on with life, make big decisions about jobs, homes or school until the house is sold. Everything else being equal, Open Door Auctions allows sellers to finish the process in 14 days rather than the average 97 days. Ultimately, the choice of whether to call a traditional real estate broker or choose to go with Open Door Auctions comes down to one thing. What have has the seller got to lose? The answer is nothing.
About Open Door Auctions, Inc.
Located in Orange County, California, Open Door Auctions operates using a business model that is fundamentally different from every other traditional real estate agency in the marketplace. Open Door Auctions hosts auction-style open houses, offering interested buyers, investors, homeowners and real estate agents a more fruitful and exciting way to do business. For more information, visit Open Door Auctions online.
###