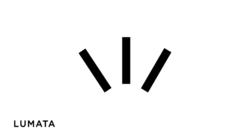 Helping businesses with the challenges mobile presents is a big opportunity for an experienced team with the right financial backing. That's Lumata.
London (PRWEB UK) 1 November 2011
Leading private equity firm, Francisco Partners and Buorngiorno S.p.A, the global leader in the paid mobile content market, launched Lumata today with positioning, naming and visual identity by branding agency Heavenly.
Lumata, a newly formed company, owned 70% by Francisco Partners and 30% by Buorngiorno will combine Buorngiorno's existing fast growing operator, brand and manufacturer focussed businesses under one single brand. The company launches with a global footprint of 15 offices with more than 500 employees and annual revenues in excess of 50 million Euros. Clients of the new company include Orange, T-Mobile, Verizon and Telefonica as well as brands that include Nestle and P&G.
The brand consultancy was appointed following a competitive tender to carry out a brand audit, develop a brand positioning and create a visual identity for the new company.
Lumata is headed by former Clearwire executive and Match.com CEO Thomas Enraght-Moony who commented on the launch "Mobile marketing is the place to be – it's how consumers prefer to interact with the companies that serve them. Helping businesses with the challenges mobile presents is a big opportunity for an experienced team with the right financial backing. That's Lumata."
Heavenly's Managing Partner, Stefan Terry commented "Lumata is a new brand that has the power of mobile at its heart. The name which has global overtones of light and the associated dawning of a new era helps position the new organisation as a leader in the mobile content sector. The visual identity reinforces this association whilst retaining simplicity and confidence."
For more information on Lumata visit http://www.lumata.com
###