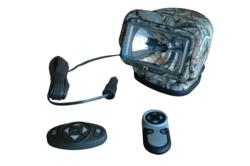 We have produced a special version of the popular Golight remote control spotlight that features a camouflage pattern.
Kemp, TX (PRWEB) November 02, 2011
The GL-3085H-M magnetically mounted remote controlled HID Golight Stryker from Magnalight produces 3,000 lumens and a 5000 foot+ long beam of intense light from a single 35 watt HID bulb. A weatherproof wireless remote control with 100 feet of range and a spotlight movement of 360 degrees of rotation, and 170 degrees of tilt, provides full remote control functionality and makes this unit ideal for applications where operators need the ability to operate a spotlight while away from the central unit. These camouflage Golights have weatherproof and UV resistant housings constructed of impact resistant materials and a thick glass lens to provide rugged durability that can withstand abusive outdoor environments.
Magnalight has equipped these Golights with a 200lbs grip magnetic base and a 16 foot, 16 AWG zip cord terminated with a cigarette plug to create an extremely versatile spotlight that can be mounted almost anywhere and will stay in place even under aggressive driving conditions. Magnalight has also added an available optional GLS-LRED red lens that allows the user to convert the output of this spotlight to a powerful red light beam and use this remote controlled spotlight for hunting applications. This red lens is constructed of Mylar and is easily applied over the existing lens via an adhesive backing without tools or damage to the original Golight lens. The optional red lens makes this an ideal spotlight solution for hog hunters, nuisance predator control, and nighttime tracking activities where hunters wish to avoid spooking potential game animals. These units operate on 12 volts DC and pull a small 3 amps, providing efficient operation as well as high power.
"We have produced a special version of the popular Golight remote control spotlight that features a camouflage pattern," said Rob Bresnahan with Larson Electronics' Magnalight.com. "This camouflage spotlight gives predator hunters 360 degrees of rotation and 140 degrees of tilt in a compact, portable magnetic mount form factor that can be positioned with a wireless remote up to 100 feet away. Available with an optional red lens, this wireless spotlight is ideal for hogs, coyotes and other predator hunting applications."
Larson Electronics' Magnalight stocks an extensive inventory of Golights, HID spotlights, remote control spotlights, and LED spotlights and continually improves and adds to its selection with the latest and best in lighting technology. The full line of Larson Electronics' spotlights can be seen by visiting Magnalight.com. Magnalight can meet special order lighting requirements and can be contacted by calling 1-800-369-6671 or 1-214-616-6180 for international inquiries.
###