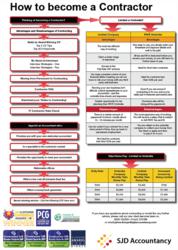 UK's first 'How to Become a Contractor Roadmap' infographic.
(PRWEB UK) 3 November 2011
SJD Accountancy, the UK's largest accountants for Contractors with over 11,000 limited company contractors, freelancers and consultants, has developed what it believes to be the UK's first 'How to Become a Contractor Roadmap' infographic. The guide has been developed to support people who are considering entering the world of contracting and freelancing.
Contracting has never been more popular!
This will come to many as no surprise, bearing in mind the number of government cuts and redundancies in the corporate world.
itjobswatch.co.uk the UK's largest provider of IT job and contract vacancy data also reports substantial increases in the number of IT contractor vacancies advertised, where back in 2009 there were just 156,000 IT contract jobs with the number expected to be well over 250,000 by the end of 2012.
Recruitment and Employment Confederation (REC) also echo this changing employment model with Andrew Tomlinson - REC Policy & PR Advisor who comments 'recruiters have relied increasingly on temporary and contractor placements, rather than permanent placements, for their turnover in recent years. The REC's 2009/10 industry survey found that 90.4% of recruitment industry turnover came from the temporary/contractor market, up from 86.8% in 2006/07'.
Making the move to contracting for some does seem a little scary, and finding the best way to start out can be confusing, after all there is so much information out there it can often seem bewildering. To help with this SJD Accountancy has developed a simple to follow contractor infographic (information graphic), that illustrates the options contractors have by explaining the steps they should consider before becoming a contractor, in a simple plain English guide.
The guide covers topics like how to build a great CV, surviving and succeeding at interviews, the advantages and disadvantages of becoming a contractor as well as a rundown on how best to operate either via an Umbrella company or through your own limited company.
To download SJD Accountancy's free illustration of How to become a Contractor please visit:
http://www.sjdaccountancy.com/how_become_contractor_infographic.html.
About SJD Accountancy
SJD Accountancy is the UK's largest specialist provider of fixed fee, limited company accountancy services to contractors, freelancers and Small Businesses. It is the only national specialist firm of accountants with offices in all major cities, and is the chosen accountancy firm for more than 11,000 clients.
SJD Accountancy has been acting for contractors and small businesses since 1992 and is the most recommended accountancy firm on the Internet. It has more qualified staff than any other specialist firm, with qualifications covering the major Tax and Accountancy bodies, including ATII, ATT, ACCA, CA, ACA, FCCA, ACMA.
SJD Accountancy offers a complete package including completion of accounts, payroll bureau, dividends, corporation tax computations, personal taxation and all company returns.
On top of all that, SJD Accountancy has also won every relevant industry award possible, including:
'Best Accountant for Contractors' - Contractor UK 2010 - 2006
'Small firm of the Year' - Accountancy Age 2007 & 2004
'Medium firm of the Year' - Finalist Accountancy Age 2010
'Customer Commitment Award' - Institute of Customer Service 2011
'Santander Small to Medium Business of the Year' - Finalist National Business Awards 2010
'Excellence in Customer Service' - Finalists National Customer Service Awards 2009
'National Chamber of Commerce Award 2010'
'Sunday Times Best Small Companies' - Award 2009 - 2007
'Best Professional Team of the Year' - UK Customer Experience Award 2011
And most importantly, in a recent survey 98% of their clients rated SJD Accountancy as 'better than other accountants' - and they are working hard to convince the other 2%!
Further information:
Contact: Jaime Thorpe
Tel: 0500 152500 / 01442 275789
Email: jaime.thorpe(at)sjdaccountancy(dot)com
Website: http://www.sjdaccountancy.com
###