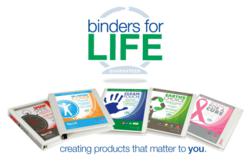 "Our mission for BindersforLife is to create products that make a difference in people's day to day lives " - Drew Bowers, Samsill Director of Marketing.
Fort Worth, TX (PRWEB) November 03, 2011
Samsill is excited to announce the expansion of the BindersforLife ™campaign within the office products industry with the new Speedy Spine™ three-ring binder. Speedy Spine™ features a patent pending spine channel construction that loads spine labels five times faster than traditional view binders in the market. Save money and be more productive by loading spine inserts in seconds.
Stepping outside the bounds of traditional office products, Samsill is proud to manufacture value-added products that make a difference in user's lives. These products feature patented construction, cutting edge additives, and give back to the community through various causes. The BindersforLife™ campaign tagline proclaims, "Creating products that matter to you" because Samsill is constantly creating unique products like Biodegradable, Antimicrobial, Breast Cancer Awareness, Ergonomic and newest addition Time Saving binders. These binders matter to the consumer at a daily level and do not just tout long lasting durability or heavy-duty construction but back it up with a lifetime guarantee.
"The BindersforLife Guarantee is a statement of confidence to our customers for the reliability and durability of Samsill's BindersforLife™ products. Our binders are designed and manufactured to the highest standards in quality, appearance and performance. This lifetime warranty reflects a 58 year tradition of excellence and a commitment to superior binder products. The BindersforLife™ guarantee is our pledge to you that we will proudly stand behind our products for the lifetime of the binder."
The products featured in the BindersforLife campaign are:
Antimicrobial Protected Binders:
Harnessing the Power of Silver. Clean Touch Antimicrobial protected binders promote cleaner schools, offices, homes and hospitals. Clean Touch Antimicrobial protected binders have built in product protection that fights the growth of bacteria, mold and mildew for the life of the binder. Agion has achieved the Silver Cradle-to-Cradle Certification - Agion's silver antimicrobial additive has been certified for its material content, recyclability, and manufacturing characteristics. Cradle-to-Cradle Certified products meet established standards for human health, environmental health and recyclability.
Biodegradable Binders:
Made to Degrade. Earth's Choice Biodegradable binders are made using an all natural organic additive. These new polypropylene binder covers biodegrade in one to five years time versus the hundreds of years it takes normal plastic binder covers. A portion of proceeds from the sale of these binders go to American Forests, for at least 7,500 trees to be planted through its Global ReLeaf ecosystem restoration projects.
Breast Cancer Awareness Binders:
A Symbol of Hope. Bound for a Cure Breast Cancer Awareness binders feature a permanently screen-printed pink ribbon on the front and spine overlay. This ribbon serves as a reminder that each of the binders purchased allows for a donation to be made to The Breast Cancer Research Foundation.
Ergonomic:
Your Perfect Match. Designed for comfort and a professional look the DXL/Contour Cover Ergonomic binders have curved back spines for a unique look and feel. The exclusive construction features heavy-duty material for the most durable binder to withstand everyday use. The cover easily houses over sized indexes and sheet protectors without overlap. Recently Samsill had the DXL/Contour Cover binders tested for "comfort ability" by United States Ergonomics. It was awarded the Comfort Certification as a result.
Time Saving:
Loads 5x Faster. Speedy Spine™ Time Saving binders feature a patent pending spine channel construction that loads spine inserts five times faster than other view binders on the market. The dilemma of tight, almost impossible to insert spine graphics has plagued view binders since its inception more than 30 years ago. Now Speedy Spine™ eliminates that time wasting problem by allowing easy drop-in of spine inserts for custom graphics in seconds.
BindersforLife™ products are now available nationwide through a large network of office product distributors and resellers. For a full list of dealers please visit http://www.samsill.com/dealer-locator.
To learn more about Samsill's BinderforLife products and campaign visit http://binderforlife.com
About Samsill
Samsill Corporation is one of the world's largest privately held manufacturers of business cases, media storage, ring binders and sheet protectors. With corporate headquarters in Fort Worth, Texas and manufacturing facilities in Texas, Mexico and China, Samsill has grown over the past 56 years from a small family business to an employee-owned international corporation serving the school, home and office markets. For more information about Samsill and its full line of products visit http://www.samsill.com.
###