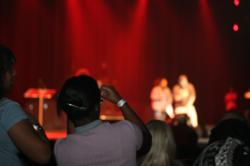 Hands down, Money XLive was far and above the most effective and successful way I have seen to promote financial literacy to the next generation.
Los Angeles, CA (PRWEB) November 02, 2011
The National Financial Educators Council's Money XLive financial literacy program will host its 2012 event in Los Angeles, CA. This unique event brings together celebrities, athletes, and entertainers to share their personal financial literacy experiences to motivate high school and college-age attendees to pick up practical money management lessons.
Hosted in a concert venue setting, the Money XLive (MXL) financial education experience engages the audience with a full stage production featuring live music, celebrity presentations, and DJ music—all toward the goal of spreading financial literacy. The event is designed to teach participants money skills and motivate them to become financially responsible, while inspiring them to give back to their community.
After hosting the last three MXL events in Grand Junction, CO, Orange County, CA, and Seattle, WA, the native California-based National Financial Educators Council (NFEC) has decided to bring the event home. As co-founder of Money XLive Chad Penry commented, "We're excited about having our next Money XLive in LA. It's close to home and many families here are suffering from financial distress. This event will also be streamed via the Internet to provide people all over the US access so they can pick up 21st-century financial literacy skill sets."
Past guest celebrity presenters have included Wilmer Valderrama, Seth Joyner, and John Salley. In addition to celebrities, financial education professionals deliver engaging presentations to reinforce the real-life lessons the celebrities share. Due to the generosity of our past sponsors (including State Farm, Channel 11 News, Colorado Housing and Finance Authority, and several Credit Unions), the last three events have educated and entertained more than 3,000 people.
All tickets for the Money XLive Los Angeles event will be provided to families free of charge. "A lot of people are struggling financially; we don't want the cost of a ticket to hold anyone back from picking up the personal financial literacy lessons that can help them avoid common financial pitfalls that many of our youth face today," states Cecile Abad of the National Financial Educators Council.
Past Money XLive financial literacy programs have highlighted the NFEC's social enterprise business model and more than 30 different nonprofit organizations have donated tickets to youth for those events. Past nonprofit partners have included STANDUP for KIDS, AIGA Foundation, the Brockman Educational Institute, and the Matt Leinart Foundation. Sponsors and non-profit recipients are encouraged to contact the NFEC prior to January 1st, 2012.
The Money XLive events have entertained thousands of youth across the country while instilling practical personal financial literacy lessons. The MXL LA event will provide tickets complimentary community groups and non-profit organizations throughout Southern California. All attendees will also receive the Money XLive multi-media learning center to reinforce the lessons learned at the live event.
The National Financial Educators Council is a leading provider of unique financial literacy programs that are designed to engage the target audience to improve their financial capability. The NFEC takes a holistic approach to teaching financial literacy and provides complimentary financial education resources for the attendees, their families, the non-profit partners and community.
###